LeBron James played, and Stephen Curry sat.
In a tight NBA Finals, that might have been the difference.
Steve Kerr made some strange coaching decisions in the fourth quarter of Game 7 – Festus Ezeli, anyone? – but the most baffling might have been opening the period with Curry on the bench.
This was Game 7 of the NBA Finals. There's something to be said for rest, but there are better opportunities to give your best player a breather.
With Curry sitting, the Warriors turned a one-point lead into a three-point deficit.
Meanwhile, LeBron played the entire fourth quarter – and the entire two quarters before that. Curry didn't even crack 40 minutes for the game.
There were nine times in the 2016 Finals someone played more than 42 minutes in a game (rounding to the nearest minute). Eight were by Cavaliers. Draymond Green in Game 7 was the only Warrior: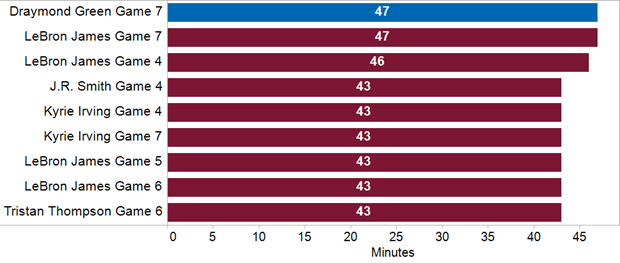 Perhaps the Cavaliers had more energy, because they coasted at times in the regular season rather than pursuing the NBA wins record. Maybe Cleveland players are better conditioned. Or maybe Tyronn Lue just asked more of his starters than Kerr did.
Regardless of the reason, the Cavs had their top talent on the floor more often than the Warriors in this series.
No team had so many games of more than 42 minutes in a Finals in the previous decade. With seven more such games than the Warriors, the Cleveland matched the biggest difference in a Finals since the NBA adopted a 16-team playoff format in 1984.
Here's the number of qualifying games by each team in the Finals, NBA champions in gold and runners-up in wine:

All season, the Warriors were hailed as a futuristic team – their 3-point-centric offense and switching defense hallmarks of the modern NBA. Yet, they were taken down by old-school sensibilities.
The Cavaliers' best players handled heavy workloads, and it paid off with a championship. They can rest in the offseason.