Credit Michael Jordan for never having to do this.
He never fell behind 3-1 in the NBA Finals. He never faced a team as good as the 2016 Warriors – how could you build a team so great without without Jordan on it?
But Golden State did and built a 3-1 lead over the Cavaliers in these Finals. Cleveland's back was against the wall, another season apparently headed toward disappointment.
Enter LeBron James.
Facing outsized and unfair expectations, LeBron exceeded them all. The numbers in the last two games are jaw-dropping: 82 points (56% field-goal percentage, 50% 3-point percentage), 24 rebounds, 18 assists, 7 steals, 6 blocks, +39. They also perfectly match what we've all seen: breathtaking offense and overwhelming defense.
LeBron has dominated consecutive Finals games in a way Jordan – and everyone else in this era – never did.
In Game 5, LeBron posted the third-highest game score (a stat designed to consolidate box-score numbers) in the Finals since 1983 (as far back as Basketball-Reference.com has data). In Game 6, LeBron posted the highest game score of the era.*
*No. 2 is Tim Duncan in Game 1 of the 2003 Finals.
LeBron's combined game score (81.7) is – by far – the highest by an individual in consecutive Finals games.
Here's every time someone posted a combined game score of at least 60 in consecutive Finals games since 1983: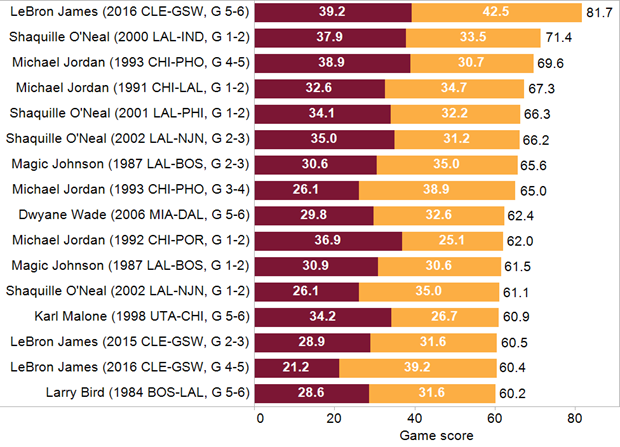 Obviously, the box score doesn't capture everything. But, if anything, box scores have short-changed LeBron. They miss his attention-drawing offense, his defensive intimidation, his leadership on a less experienced team.
LeBron has put the Cavs on his back against a historically great opponent when there was no margin for error. Twice.
Both times, he has come out on top.
Jordan never had to do that, but LeBron did – and delivered.