Doris Burke asked Kyrie Irving a couple post-game questions then turned to LeBron James.
"LeBron, thank you for waiting," the sideline reporter said.
LeBron doesn't often share the stage, but Irving earned his leading role.
LeBron and Irving each scored 41 points – a historic combination – in the Cavaliers' 112-97 Game 5 win over the Warriors on Monday.
Last time teammates each scored more than 40? Russell Westbrook and Kevin Durant in the Thunder's second game of the season.
Last time teammates each scored more than 40 in a playoff game? Sleepy Floyd and Akeem Olajuwon for the Rockets in the 1988 first round.
Last time teammates each scored more than 40 in a Finals game? Never.
LeBron's and Irving's 82 combined points were the third-most by a duo in a Finals game. Elgin Baylor (61) and Jerry West (24) set the record with a combined 85 in Game 5 of the 1962 Finals.
Here's each time two teammates combined to score at least 75 in a Finals game: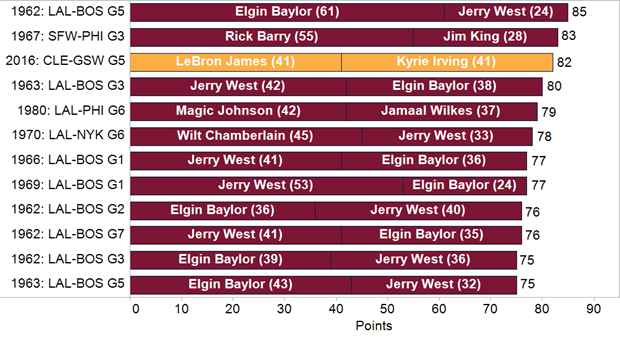 Nobody else on that chart produced their high-scoring Finals game in LeBron's and Irving's lifetimes. This was truly a generational performance – with all the pressure on the Cavs, who were down 3-1, and in Oakland
LeBron was aggressive early, and it didn't take Irving long to get going. LeBron had 25 by halftime. Irving scored 10 straight Cavaliers points in a sub-two-minute stretch of the fourth quarter to put the game out of reach.
This wasn't hero ball, either. LeBron (seven assists) and Irving (six assists) got others involved, including each other. And they shot efficiently. LeBron was 16-for-30 (4-for-8 on 3-pointers), and Irving was 17-for-24 (5-for-7 on 3-pointers).
Their combined shot chart: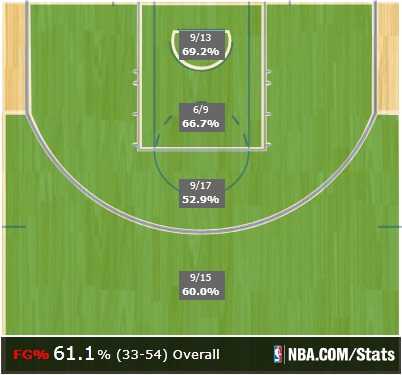 Finally taking his turn answering post-game questions, LeBron repeatedly called Irving's performance "special." And it was. A player scoring 41 points in an NBA Finals victory is a rarity.
Except tonight.