Klay Thompson scored 37 points in an NBA Finals game.
The first question he received was about not keeping up with LeBron James and Kyrie Irving.
LeBron's and Irving's historic 41-point nights eclipsed Thompson's incredible performance in Game 5, leaving Thompson in an unprecedented position.
Thompson's 37 points are the most to rank third in a Finals game. The previous record was Chet Walker's 33 in Game 4 of the 1967 Finals, topped by Rick Barry (43) and Hal Greer (38).
Here's every time three players scored 30 in a Finals game, sorted by the third-leading scorer with the top two scorers on the second line: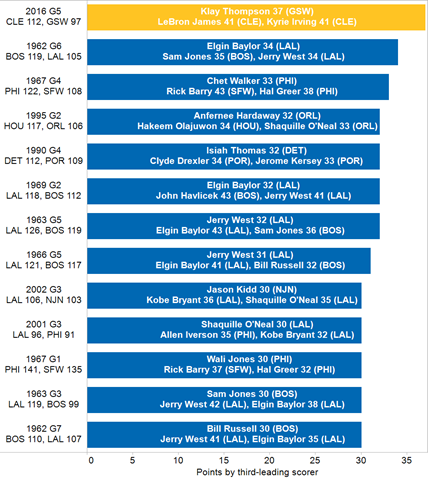 Jerry West and Elgin Baylor each scored 34 – to Sam Jones' 35 – in Game 6 of the 1962 Finals, so neither Laker was overshadowed by two players.
The last player to score 30 and get outscored by two opponents: Jason Kidd, whose 30 weren't enough in a 2002 Game 3 loss to the Lakers. Kobe Bryant (35) and Shaquille O'Neal (35) paced Los Angeles.
As excellently as Kidd played in that game, Thompson scored seven more points. And barely anyone is talking about Thompson today.
That's how special LeBron and Irving were.