Andrew Bogut writhed in pain on the floor.
Bogut was fouled attempting to finish an alley-oop in the third quarter, and he fell hard. The Warriors' starting center getting hurt in an NBA Finals game was a scary moment.
For the Cavaliers.
Rather than letting Bogut play through pain, Steve Kerr quickly subbed Andre Iguodala for Bogut. Suddenly, Golden State had its death lineup on the floor and immediately went on an 8-0 run.
After holding back in the first three games of the series, the Warriors finally committed to playing Draymond Green at center, and it made all the difference in their 108-97 Game 4 win.
Green played 28 of his 42 minutes at center, his most of the Finals: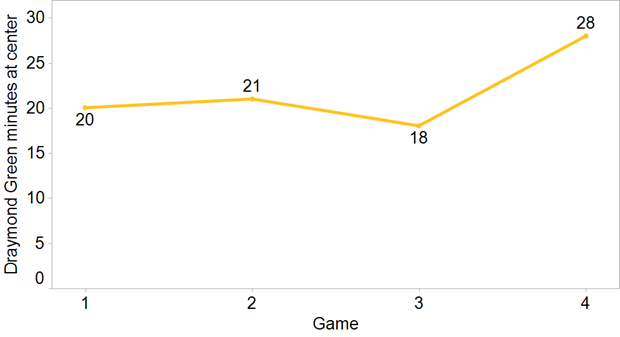 Kerr's reluctance to lean on Green at center had been a strange subplot of these Finals. For two years, the Warriors had been so good with him there – including against the Cavaliers in last year's Finals.
That hadn't changed in limited minutes this year, either.
Here's Golden State's plus-minus per 48 minutes with:
The Warriors have been better in each game with Green at center. He protects the rim and allows them to switch everything then push the pace. If he and his smaller teammates are adequately rebounding – and they were tonight – those units are lethal.
That's why the best lineup of the bunch – Stephen Curry, Klay Thompson, Andre Iguodala, Harrison Barnes and Green – has been nicknamed the "death lineup." Kerr rode it tonight to put Golden State up 3-1 and one game from a kill shot.
The death lineup played more in Game 4 (17 minutes) than Games 1, 2 and 3 combined (13 minutes). In those 17 minutes, the Warriors outscored Cleveland by eight points.
In two years, the Cavs just haven't shown an answer for Green at center. They must find one by Monday, or their season will end in Game 5.
Unless Kerr wants to keep toying with them by limiting Green's minutes at center.
But Golden State showed tonight what happens when Green is fully unleashed at center. The Warriors can and should go back to it frequently.