Andre Iguodala literally sat on the floor as his teammates took all the glory.
On one end, Iguodala helped force LeBron James into a miss and rebounded a tip-in attempt.
On the other end, Iguodala boxed out Tristan Thompson to allow Harrison Barnes to grab the offensive rebound and Draymond Green to convert a second-chance three-point play.
A key Game 2 sequence with Iguodala's fingerprints all over it, and what did he get? Not a single traditional box-score stat. Just a seat.
He didn't get credit for the defensive rebound. Green, in either a scorekeeping error or a very charitable definition of controlled tip, did. Even the NBA's hustle stats ignored Iguodala, who funneled LeBron into Green's help defense. Green was credited for the contested shot.
So, there was Iguodala, sitting on the court. He had fallen in the tussle for the offensive rebound and remained on his rear end as Green began his drive.
More than the numbers, Iguodala might have just appreciated the impromptu rest. He was in his straight 15th minute of game time.
The 2015 NBA Finals MVP, Iguodala is again carrying a heavy load for the Warriors. He's averaging 9.5 points, 6.0 rebounds and 4.5 assists per game, and he's a team-best +49.
"We want Andre on the floor as much as possible," Warriors coach Steve Kerr said.
Mission accomplished.
Iguodala's 32 minutes per game are the eighth most in reserve during the Finals since the NBA adopted a 16-team postseason in 1984. His 34.7 minutes per game last year set the record.
Here's everyone to average at least 30 minutes in reserve in this era: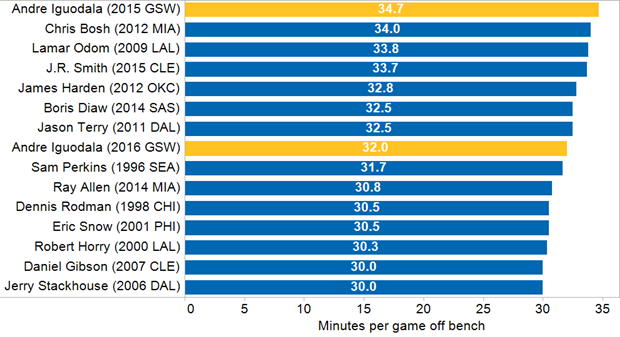 That grinds on the 32-year-old Iguodala.
There's a reason beyond ceremony teams typically start their best players. It allows them to spread heavy playing time over 48 minutes rather than cramming it into, say, a 38-minute stretch.
Iguodala begins each half resting, and that's a time players don't really need rest – especially to begin a game. If he's playing the same minutes he would as a starter, that jams his playing time into a short stretch.
As a result, Iguodala is playing longer stints than anyone in these Finals. For these purposes, a stint is a stretch of playing time that can be interrupted only by the two longest breaks – halftime and time between games.
Here's every stint longer than 12 minutes in this series: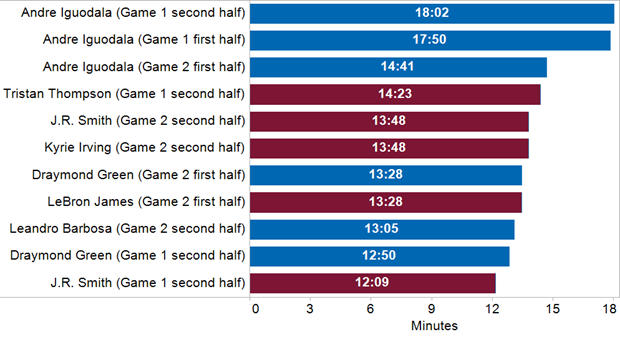 Iguodala has the three longest – 18:02, 17:50 and 14:41.
By comparison, Harrison Barnes – the player Iguodala would most likely replace in the starting lineup – hasn't played even a nine-minute stint.
And that's why heavy-usage reserves typically move into the starting lineup in these crucial situations. Six of the 14 players to play more than 30 minutes per game off the bench in a Finals in this era (see first chart) started in the series, including Iguodala last year.
So, Kerr has a seemingly smart adjustment in his back pocket. The onus is on the Cavaliers, down 0-2, to make a move. But there'd be nothing wrong with Kerr preemptively improving his team's position.
Iguodala is key to defending LeBron, and starting Iguodala would help ensure their minutes overlap as much as possible. It'd also just reduce the physical toll on Iguodala by breaking up his shifts.
The Game 2 blowout helped. Iguodala didn't play as much in the second half. Kerr also helped by subbing in Iguodala sooner in the first quarter, allowing the forward a break between his first/second-quarter stint and another later in the second quarter.
I'd hesitate to disrupt chemistry, and Barnes is comfortable starting – just as Iguodala is fine off the bench. But as dominant as Golden State has been overall, its starting lineup has been outscored by seven in the Finals. That unit isn't necessarily worth keeping in tact.
The Warriors probably don't need to change anything to win the title, but starting Iguodala might make them a little more effective.
It'd at least ease the burden on someone who's busting butt with minimal reward to help the team.