LeBron James is the first NBA star of the social media age, and with that has come a volume of criticism that the greats before him — Bill Russell, Magic Johnson, Michael Jordan — never had to deal with.
Even these playoffs, there have been chattering voices knocking LeBron for how he worked more to set up teammates — particularly Kyrie Irving and Kevin Love — more than seeking out his own shot. Some people have always wanted him to be more Jordan, when he was always more Magic. Or Oscar Robertson.
And this playoff he knew that he could carry his Cavaliers to the NBA Finals through a diluted East, but if he wanted a ring he was going to need those other players to be confident, ready, and believing in the team.
You could see that all come together for LeBron James in Game 6. He attacked early and set a tone, then got everyone involved on his way to 33 points and 11 assists in what became a 113-87 win sending Cleveland back to the NBA Finals.
"I just had to bring my game," James said in his on-court postgame interview on ESPN. "I had to bring my game, I had to be in attack mode from the beginning, trust my shot, and once my shot start going I can get my teammates involved and they was able to carry me down the stretch."
LeBron James was getting to the rim with those attacks, check out his shot chart: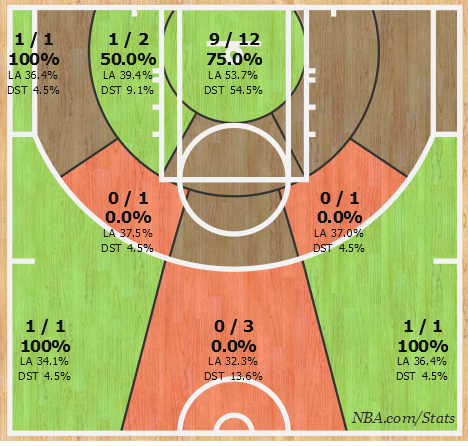 LeBron also keyed the fourth-quarter 22-7 run that put away the game.
"There is only one LeBron James, and he makes a difference on any team he plays on, and he's proven that," Raptors coach Dwane Casey said postgame. "It's six Finals (in a row for LeBron), to compare him to our team — and I love our players, I wouldn't trade any of our players — but you put him on any team and he's a difference maker."
LeBron's critics will not be silenced. The man has made six straight finals, a feat not accomplished by anyone since a few legendary Celtics of the 1950s-60s (Bill Russell's teams). It speaks to LeBron's focus, skill, durability, and ability to lead teams.
Critics will point to LeBron being 2-4 in the Finals. That misses the point — making it to six straight is an amazing accomplishment, and LeBron did it his way. Not trying to be MJ or Magic or Oscar, just being LeBron James.
We should savor watching this guy play while we still can.