In the last 33 years, as far back as Basketball-Reference.com records go back, teammates have each scored at least 30 points while shooting less than 40% in a game three times:
Kevin Durant (40 points on 12-of-31 shooting) and Russell Westbrook (31 points on 11-of-28 shooting) in a Western Conference finals loss to the Warriors last night
Durant (30 points on 10-of-27 shooting) and Westbrook (30 points on 9-of-26 shooting) in a first-round loss to the Grizzlies in 2014
Durant (37 points on 7-of-20 shooting) and Westbrook (36 points on 10-of-26 shooting) in a regular-season loss to the Nuggets in 2013
Yes, every time it has happened, it has been Durant and Westbrook. And each time, the Thunder have lost.
Oklahoma City reverted back to this losing formula against Golden State in Game 5. The Thunder's offense turned stale, the ball sticking with Durant and Westbrook as it had so many times in years prior – years that all ended short of a championship and with questions swirling about offensive creativity.
Simply, Thunder looked like the same old Thunder.
Durant and Westbrook scored 64% of Oklahoma City's points, a mark they hadn't hit since the season's second game – a double-overtime win over the Magic in which Durant and Westbrook scored 18 of the Thunder's 22 overtime points and were the only Oklahoma City players to play all of both extra periods.
Here are the percentage of the Thunder's points scored by Durant and Westbrook in each playoff game: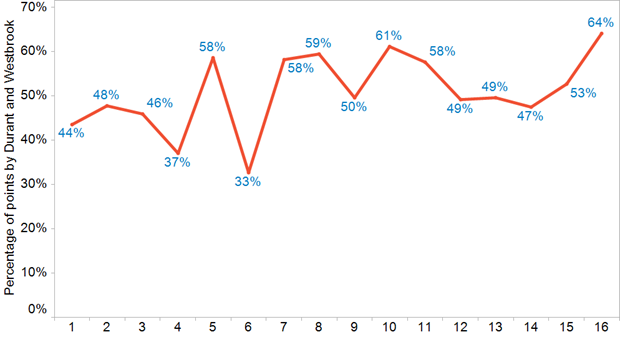 The Thunder have shown this isn't a winning game plan for them. They're 2-4 when Durant and Westbrook score at least 59% of their points, 6-7 when it's between 54% and 59% and and 58-21 otherwise.
This is not to blame Durant and Westbrook. Though they might have hunted their own shot a little too often in Game 5, their teammates didn't do nearly enough.
Oklahoma City's other players scored a series-low 40 points – and 10 of those came on 4-of-4 shooting from Anthony Morrow, who had been out of the rotation. Dion Waiters – who, I believe, had been the biggest key for the Thunder going from very good in the regular season to elite in the playoffs – scored no points on 0-of-4 shooting in 27 minutes after averaging 10 points per game in the series' first four contest. Enes Kanter, who had been an offensive positive, was an effective no-show, scoring one point in just six minutes because his defense made him mostly unplayable.
Durant and Westbrook are playing better than ever, but their supporting cast's rise had been huge in these playoffs. The crew had been amazing relative to previous postseasons. Serge Ibaka, Andre Roberson and the rest just didn't sustain it in Game 5.
The second-lowest scoring output by the Thunder's other players in this series came in Game 2, which Oklahoma City also lost. Here are the points by Durant's and Westbrook's teammates in each game of the Western Conference finals, Thunder wins in blue and losses in orange: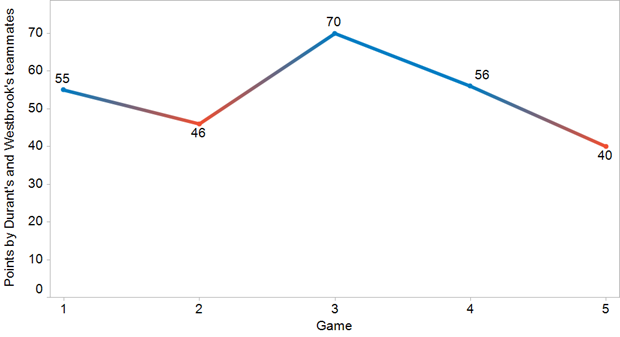 Durant, via James Ham of CSN Bay Area:
"No," Durant said emphatically when asked if he and Westbrook sometimes forget about the players around them. "That's who we are, we've got to be aggressive. When they're going in, you won't say anything."

"But we happened to miss some tonight," Durant continued. "But we were aggressive. We were right there. We had an opportunity to win the basketball game. That's what we we do. That's how we play, like it or not."
Durant and Westbrook should be aggressive, but it's on their teammates to limit the stars' attempts – to provide outlets when the defense hones in on Durant and Westbrook. The Thunder's other players didn't do that last night, so Durant and Westbrook forced shots.
This gives credence to the theory that role players don't travel well. Perhaps, this will instantly change for Game 6 Saturday in Oklahoma City.
As great as Durant and Westbrook are, they need help. They'll justifiably take the offensive burden when no other option presents itself, and it's the lesser of two evils. But when games go that direction, there's an inevitable conclusion: The Thunder usually lose.