At 78-86, the Jazz have – by far – the best  record over the last two years without making the playoffs either season: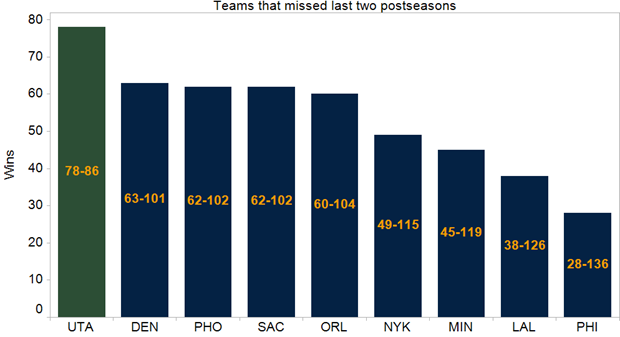 Utah remains a young team and continue building patiently.
But maybe it's time to cash in some chips – like the NO. 12 pick – for an immediate boost.
For the second straight year, rival execs expect Utah to quietly gauge the market for its lottery pick in search of veteran help at point guard or on the wing. And for the second straight year, Utah will have trouble finding a player under the right sort of contract, and in the right age range, to make a deal worthwhile.
This went nowhere last year, so the Jazz drafted Trey Lyles – another young player in their arsenal full of them. I'm not as convinced as Lowe this year will produce similar results.
Utah could still get better in the short term at point guard, with Dante Exum just 20 and robbed by injury of a season of development. Another quality wing behind Gordon Hayward and Rodney Hood could be useful.
Missing the playoffs a second time could also add temptation for an immediate upgrade, but the big difference is the salary cap.
Including the No. 12 pick, the Jazz are in line to have 15 players under contract and be about $19 million below the salary floor and $29 million below the the salary cap. That $19 million will get spent one way or another, whether it's acquiring players in mid-season deals, restructuring contracts or paying the shortfall to players on the team (the only "punishment" for not meeting the floor).
So, why not spend it this summer to upgrade the roster for the entire season? Maybe that means free agency, though Utah isn't traditionally the most appealing destination. Utah should  also be more open to accepting a highly paid player in a trade. The willingness to accept a less-than-desirable contract plus the No. 12 pick could yield a player who really helps on the floor now.
The Jazz are in a place where winning now must start to matter.