The Raptors lost Game 1 last night.
Again.
Toronto's loss to the Cavaliers was its eighth straight defeat to open a series. The Raptors are now 1-10 all-time in Game 1s, breaking a tie with the Timberwolves for worst Game 1 record among the NBA's 30 franchises: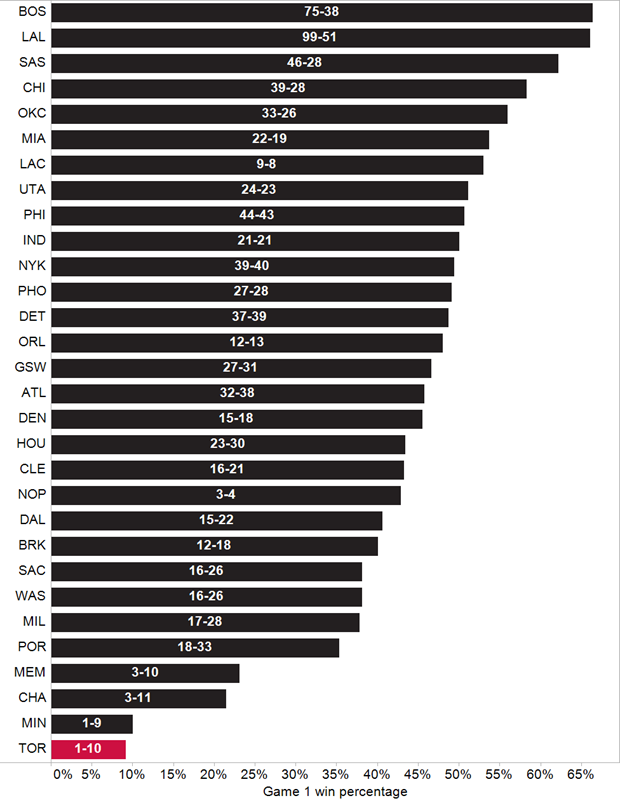 This measure could punish teams for making the playoffs as a lower seed rather than missing the postseason entirely, because home teams have won 74% of Game 1s. Minnesota, for example, lost its first five Game 1s in franchise history – all on the road.
But the Raptors have no such excuse. Toronto is a stunningly bad 0-5 in home Game 1s, including losses to the Pacers and Heat this year.
Game 1 winners have won 79% of series. No wonder the Raptors hadn't won a best-of-seven series before this season. Really, it's remarkable they reached the conference finals after digging early holes the first two rounds.
In the process, Toronto has tied the 2013 Grizzlies, 1976 Suns and 1971 Bullets for most Game 1 losses in a single postseason (three).
If it's any consolation, Toronto probably won't break that record this year.