We've seen this movie before. A lot.
Oklahoma City's athletes started to make plays and in the middle of the fourth quarter hit a couple of huge threes to retake the lead, and then the Spurs execution kicked in — a 10-0 run to retake the lead, one they would never relinquish again. The Thunder and their isolation basketball had three key turnovers late (two by Russell Westbrook), and if it wasn't that it was rushed shots (some of which fell). Then, when the Spurs needed it most, Kawhi Leonard came up with the key offensive rebound to seal the win.
The Spurs just executed better down the stretch than the Thunder in what was another close, exciting game in this series. That execution led to a 100-96 win that puts San Antonio up 2-1 in the series. Game 4 is Sunday in Oklahoma City.
Leonard had 31 points, LaMarcus Aldridge added 24, but the real key was Tony Parker's efficient 19 points on 7-of-14 shooting. The Spurs need Parker in this series.
Well, that was a key and just player and ball movement. Down the stretch it was so evident — the Spurs are running off-ball action to free up Leonard or Aldridge to get them open and into a position they like, the Thunder run simple isolation or high pick-and-rolls for Westbrook or Durant. It led to a seven-minute scoring drought in the fourth quarter. The Thunder are predictable, and it gets them in trouble down the stretch because predictable is defendable. As an example, with 18 seconds left and down four the Thunder ran 14 seconds off the clock trying to get a shot off — when they couldn't get a three they didn't have a good plan for a quick two and their shot ended up being a Dion Waiters shot moving across the lane. By that point the Spurs just had to inbound the ball — Tim Duncan did that but with a dangerous pass — and wait to get fouled. Leonard did and hit his free throws.
Another example: Westbrook led the Thunder in scoring with 31 points, but look at his shot chart on the night.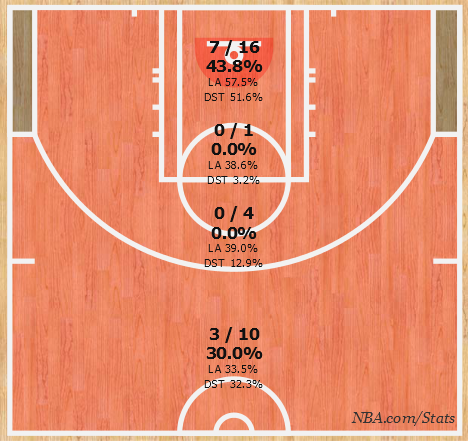 "I've got to do a better job executing and putting guys in a position to score the basketball, especially tonight," Westbrook said after the game. "You got to find ways to move the ball around, that starts with me. I've got to do a better job with that, leading into the next game."
Credit the man for owning up to a rough night where he shot too much and didn't move the ball enough. Westbrook had 31 points on 10-of-31 shooting, Kevin Durant added 26 and Serge Ibaka 15.