The Hawks hugged Cleveland's bigs, Channing Frye and Kevin Love, in the corners. LeBron James droves straight through the lane for a dunk.
Two Hawks lunged at J.R. Smith beyond the arc. He kicked to LeBron, who made an open 3-pointer.
The Cavaliers continued their 3-point onslaught, sending Atlanta into a tizzy, in their 121-109 Game 3 win Friday. Those LeBron baskets on consecutive possessions highlighted a 20-3 Cleveland run in the fourth quarter after the Hawks led most of this game.
The Cavs' 14th straight win in Eastern Conference playoff games puts them up 3-0 on Atlanta. One more win would give LeBron victories 17 straight Eastern Conference playoff series. Closing this series in Game 4 Sunday would guarantee Cleveland three to seven days more rest than the Heat-Raptors winner in the conference finals.
Nowhere is the Cavaliers' dominance more impressive than beyond the arc.
Led by Kyle Korver (who made 5-of-9 3-pointers off the bench), the Hawks set a franchise playoff record with 16 3-pointers. Cleveland still made more – 21 on 39 attempts, 54%.
The Cavs have now set a record for 3-pointers through 10 playoff games. This was their seventh game of postseason.
Here's the running total for 3-pointers though each playoff game, Cleveland in wine and the record entering this year in gold: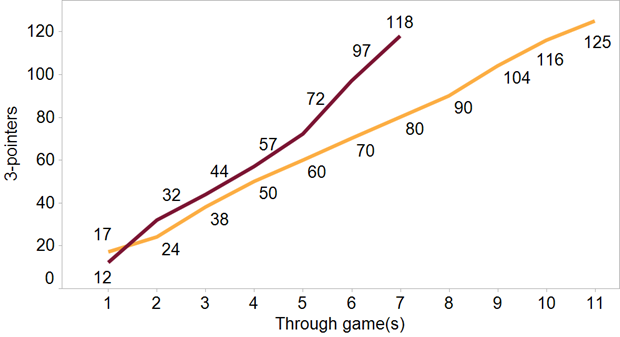 The Hawks relentlessly attacked Kevin Love (21 points, 15 rebounds and three assists) and got him in foul trouble. They repeatedly intentionally fouled Tristan Thompson, who grabbed nine offensive rebounds in 28 minutes but made just 5-of-12 free throws.
No problem for the Cavs.
They just turned to Channing Frye, who delivered the playoff game of his life with 27 points on 10-of-13 shooting, including 7-of-9 on 3-pointers, and seven rebounds.
Kyrie Irving (24 points) scored when the Cavaliers' offense was stalling otherwise, and LeBron (24 points, 13 rebounds, eight assists and two steals) was LeBron.
No team has ever blown a 3-0 lead. The way the Cavs have played throughout this series and the level they reached in the fourth quarter tonight, there's no good reason to believe they'll become the first.
The only question now is whether they'll reach the conference finals 8-0 in the playoffs.