You can tell we are getting into the serious part of playoff series because the games are starting to get a little chippy. Expect more of that Saturday (and hopefully the referees let them play a little). He's what to keep your eye on.

1) Back home in Portland, will Damian Lillard find his shot? And C.J. McCollum, too? Through the first two games against the Clippers, Lillard has averaged 19 points a game on 33.3 percent shooting, and 21.4 percent from three (down from 25.1 ppg on 41.9 and 37.5 percent in the regular season). Just check out his playoff shot chart.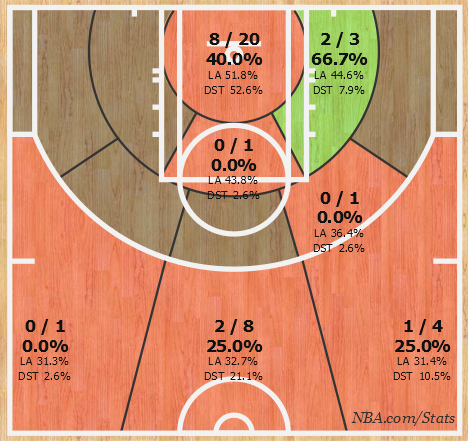 Add to that, C.J. McCollum is averaging 12.5 points a game on 32.1 percent shooting through two games. The Clippers are trapping and being aggressive, but after Game 2 Lillard owned up to just missing the clean looks they do get.
"Our coaching staff did a great job of watching film and putting myself and C.J. in different positions where they couldn't really take a lot away from us," Lillard said. "I just got to make the shots. I think that's what it comes down to."
We could talk about Portland's need to play better defense on the Clippers guards, or pick-and-roll coverages, or a host of other potential adjustments, but unless the Blazers' guard duo that carried them all season starts to deal better with the aggressive Clippers' defense and hit their shots, it's all moot. Lillard had better find his shot in Portland fast, or the Blazers will go down 0-3 and can start making tee times for next week.
2) Can Oklahoma City keep the pace up and run past the Mavericks? In the two Oklahoma City blowout wins in this series, the games averaged 97.9 possessions per game. The one loss it was 94.  In addition to Kevin Durant and Russell Westbrook knocking down their open looks (and Mavs fans should expect they will), the other determining factor in this series has been pace. Oklahoma City has the better, younger athletes and wants to get out and run. That isn't brain surgery. If the pace is up again it will be easy buckets for the Thunder and another win, Dallas' only hope is a slow, grinding game.
3) Can the Hornets overcome the loss of Nicolas Batum? The loss of Batum to a sprained ankle hits the Hornets where it hurts. (Where exactly do you hit a hornet to make it hurt?) They are going to miss his defense as an option to contain Dwyane Wade. They are going to miss his ability to hit the three and be a secondary playmaker on the offensive end. Coach Steve Clifford will either move Frank Kaminsky or Jeremy Lin into the starting lineup, but both are going to have to have big games for the Hornets to have a chance. I expect Courtney Lee will now draw the Wade assignment and he has to have a big game — Wade has averaged 22 points a game so far. Charlotte also has to do better dealing with the size of the Heat (which is why maybe the 7-footer Kaminsky gets the start). Charlotte was a much better team at home than on the road this season, they will need every bit of that — and a huge game from Kemba Walker — to avoid going down 0-3 in this series and it being all but over.
4) Can the Indiana Pacers contain Jonas Valanciunas? In Game 3 you can say that Valanciunas, battling foul trouble, wasn't as big a factor with nine points and 14 rebounds — but he was +16. For the series, the Raptors are outscoring the Pacers by 3.9 points per 100 possessions when Valanciunas is on the court. Ian Mahinmi did better in Game 3, but the Pacers need to be able to contain him and Luis Scola on the boards (especially offensive) and make the Raptors bigs work harder on the defensive end. I wonder if Frank Vogel will start rookie Myles Turner (as he did in the second half of Game 3). For all his rookie mental lapses, Turner brings some offense and energy the Pacers need if this series is going to head back to Toronto 2-2. The Pacers need to handle the Raptors' size.
5) Can somebody give Paul George a little help here? DeMarre Carroll had his best game by far these playoffs in Game 3, and it's no coincidence that George was just 6-of-19 shooting in that game. George is still going to have to do a lot (he had 25 points and six assists in Game 3) but if Carroll is bodying up the Pacers' No. 1 option then Monta Ellis, George Hill and the rest of them need to step up and knock down more shots. The Pacers could use more minutes and a big night from C.J. Miles. Indiana just needs to find more offense and it can't all come from George.