How cold was Kevin Durant shooting from the floor in Game 2 of the Thunder's series against the Mavericks?
Sometimes a picture — or in this case, a shot chart — is worth 1,000 words.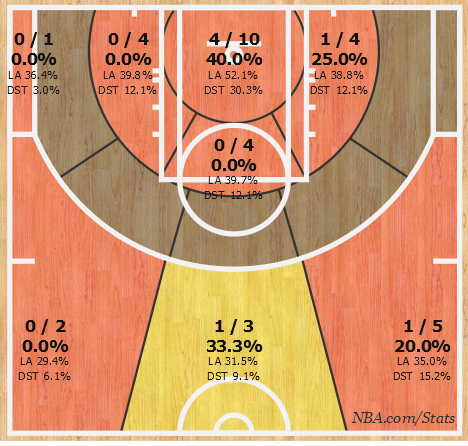 Forget the adjustments that Dallas made — and Rick Carlisle made a few good ones — that picture shows what opened the door for Dallas, a 7-of-33 shooting night from one of the usually best in the game. Behind 21 points from Raymond Felton and 17 from Dirk Nowitzki, Dallas barely got through that door for an 85-84 win.
The first-round series is now tied 1-1 headed to Dallas for Game 3.
Credit a Mavericks team that Felton said postgame was "embarrassed" with their Game 1 effort (as they should have been). Monday night they were more physical and defended better, for example they contested 28 of Durant's 33 shots, and he hit just six of those. But Durant usually hits contested shots before breakfast, and with the game on the line late he missed two clean looks — one to tie and one to win.
Off that second miss, Wesley Matthews (also an ice-cold 3-of-11 on the night) pulled the rebound away from him, went the length of the court and hit the layup in front of Steven Adams — the shot that put Dallas up four and would prove to be the game-winner.
That's because Durant did hit a three (notice the one yellow patch in the shot chart) to make it a one-point game with 9.5 seconds left. A couple of quick fouls (OKC had one to give) sent Felton to the line to try to stretch out the lead, but he missed both. Russell Westbrook pushed the ball up the court looking for the win, he dished to Durant who missed the contested layup, Westbrook missed the tip in, and then Adams did not miss a second offensive rebound and lay-up — but he got his off just a split second after the buzzer (see the video above).
Carlisle's biggest adjustment was going with the athleticism and youth that propelled Dallas into the playoffs with a late-season run — Salah Mejri and Justin Anderson. Dallas' veteran core can be old and slow (see Game 1 for reference), but the two rookies brought energy and some highlight plays. Anderson was picking up Durant full court and being physical to knock him off his game. Mejri impact can be seen this way — he was +17 on the night (tied with Devin Harris for the team high).
Now it falls to Billy Donovan to make adjustments for the Thunder. Which he will do. But all he really needs is his two stars not to combine to shoot 15-of-55 on the night and things will look a lot better for the Thunder.