Stephen Curry promised, if he reached 399 3-pointers this season, he'd start chucking for 400.
No need for desperation.
Curry made his 400th 3-pointer early in the third quarter as the Warriors seek their record-setting 73rd win. The Golden State guard continues to expand his single-season 3-pointer record, which broke his own mark, which broke his own mark: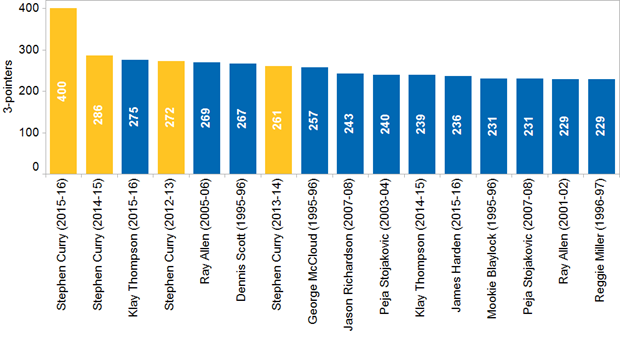 Curry entered the game eight 3-pointers from 400 – a longshot for anyone else. But Curry has now made eight 3s in a game 16 times this season – more than every player on the league's other 29 teams combined. Only Klay Thompson (five games with 8-pointers) did it more than twice.
Curry made six 3-pointers in the first quarter, including a bomb just inside the half-court logo early in the shot clock that started a run of three Curry 3s on three consecutive possessions:
He reached 399 late in the second quarter but missed a pair of attempts on the final possession of the first half.
Then, it took only one Warriors possession for Curry to hit the magic 400.