AUBURN HILLS, Mich. – Free agency stunned Jeremy Lin last summer.
He knew his value had slipped after a rough season with the Lakers, but some teams wouldn't even offer a minimum contract. Lin couldn't believe how far he'd fallen.
One team offered salvation: The Mavericks. They had agreed to terms with DeAndre Jordan and Wesley Matthews, using all their cap space without addressing their need at point guard. With only the room exception available, Lin seemed like an ideal fit. You couldn't find a better point guard for the money, and Lin would thrive running pick-and-rolls with Jordan while Matthews and Dirk Nowitzki spaced the floor and Chandler Parsons served as a secondary playmaker.
Lin was sold.
"I thought it was Dallas the whole way until the end," Lin said.
Of course, that dream died when Jordan reneged and returned to the Clippers. With money pledged to him suddenly freed, the Mavericks signed Deron Williams.
Lin, knowing the marketplace had been unkind, was in a bind. He signed a two-year, $4,374,255 contract with a player option with the Hornets.
"Charlotte came out of nowhere," Lin said. "Had I known it was going to go down the way it went down, I would've definitely planned things a little differently."
If Lin seems like he might just be passing through Charlotte, he's not the only one.
The Hornets have three starters (Nicolas Batum, Marvin Williams and Courtney Lee) and two key reserves (Al Jefferson and Lin) on expiring contracts or deals with a player option. Yet, this potentially transient group is one of the NBA's most cohesive.
In a situation ripe for selfishness and jealousy, Charlotte players share the ball and trust each other defensively. There's a reason the Hornets went 48-34 – the franchise's best record since reemerging as the Bobcats – entering a first-round series against the Heat.
"The way that guys get along, I literally – 1 through 15 – I could choose any two people, and I could see them hanging out off the court," Lin said. "We all enjoy being around each other."
In five other seasons with the Lakers, Rockets, Knicks and Warriors, Lin has seen the other side. Pending free agencies can rip apart teams.
But its roster construction hasn't bitten Charlotte.
"This is rare," Lin said. "I've been around long enough. This is rare."
After the trade deadline, 60% of the Hornets' minutes have gone to players with expiring contracts, including those with a player option for this offseason – the most in the NBA: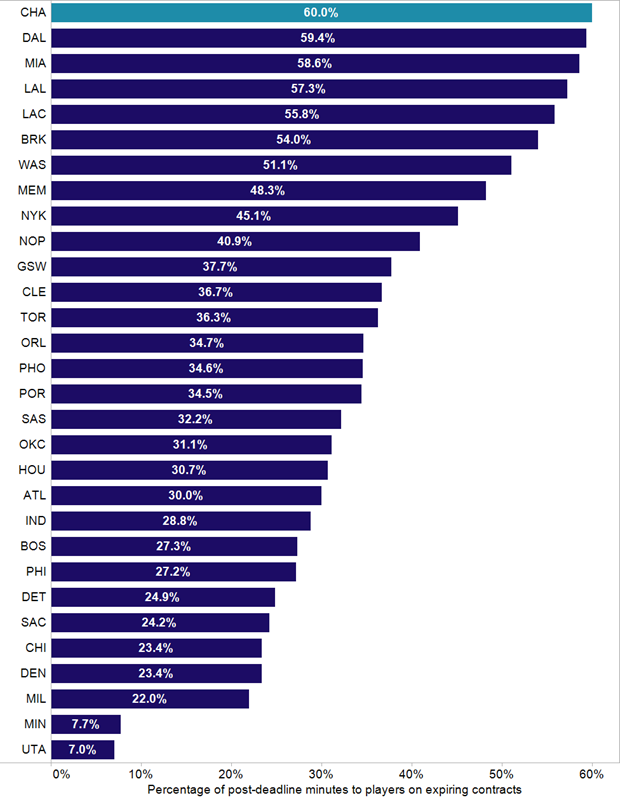 In practicality, the Hornets are further ahead of the pack than the above chart indicates. The second-place Mavericks rank so highly, because Dirk Nowitzki holds a player option for next season, but he has already declared intent to opt in.  Lin is the only Hornet with a player option, and he seems likely to opt out.
Miami is the only other team doing anything near Charlotte – winning while willingly stocking the roster with expiring contracts. The Lakers, Nets and Wizards are done. The Clippers' percentage was raised only because Blake Griffin, who's locked up next season, was injured/suspended for most of the season's second half. They'll rely on players contracted long-term much more in the playoffs.
On the other hand, this is who the Hornets are.
They made a risky trade before the season, acquiring Batum – who could walk this summer as an unrestricted free agent – for the promising Noah Vonleh, who's set to reach restricted free agency not until 2018. Then, Charlotte doubled down by dealing for Lee before the trade deadline.
One reason it works: Hornets coach Steve Clifford, who confronted the challenge head on with a speech on day one.
"You want to make money," Clifford said, "play on a team that wins.
"For every player, at the end of the day, winning is the best way for them to make more money and have more worth. People are always wary of guys who put up numbers on teams that don't win."
Clifford gave his team specific examples, and though the coach declined to reveal them, Jefferson brought up two: Monta Ellis and DeMarre Carroll. Both players signed four-year contracts last summer coming from different circumstances the season prior.
Ellis:
Scored 18.9 points for the Mavericks, who lost in first round
Got $43,981,000 from the Pacers
Carroll:
Sored 12.6 points per game for the Hawks, who reached conference finals
Got $58 million from the Raptors
"You want guys who compete well, and I think the good competitors are going to play better when their contract is on the line," Clifford said.
Compare that attitude to Randy Wittman, who was just fired after overseeing the disjointed Wizards. Jorge Castillo of The Washington Post:
Beyond using his players' contracts to motivate them rather than shrinking from the challenge, Clifford had another advantage. He's a good coach. His players could reasonably trust that, if they sacrificed for the team, they'd win. It might be difficult to enter free agency with lower numbers, but it'd so much harder without winning on the résumé, either.
As much credit as Clifford deserves, don't underestimate the professionalism of the players involved. They made this work.
Jefferson's teammates took notice when he returned from injury and suspension. In Jefferson's absence, Cody Zeller came into his own as the starting center. So, Jefferson embraced a reserve role rather than sulking about his opportunities.
"I've been around too long. I've made a lot of money," said Jefferson, who's in the final season of a three-year, $40.5 million contract that followed a five-year, $65 million extension. "I can't have that type of attitude. You've got to do what's best for the team."
Jefferson admits he probably would have handled this differently when he was younger, but…
"I've never been on a team like this," Jefferson said.
Neither had Batum, though for different reasons. He'd always taken a complementary role behind Brandon Roy, LaMarcus Aldridge and Damian Lillard with the Trail Blazers. Charlotte has given him the ball more than ever and asked him to run the offense. So, how could he complain when  a little sacrifice was necessary from time to time?
Like Jefferson, Batum has enough experience to understand the bigger picture. All five Charlotte rotation players who can become a free agent this offseason are in at least their sixth NBA season. They've seen other similar circumstances and learned from them.
For Batum, it was while he was playing in Europe and trying to impress NBA scouts before the draft.
"I was playing for my own situation," Batum said. "I said, maybe if I played that way, people are going to look at me differently. So, I started playing bad. I can't do that."
Lee has seen more than most. The Hornets are his sixth team in eight NBA seasons, and he doesn't wish for stability. "That's boring," Lee said. Instead, he welcomes the uncertainty that surround this team.
Multiple players recounted Clifford's preseason speech using similar terms. Even Lee, who began the season with the Grizzlies, parrots a the theme after a couple months in Charlotte.
"I just think you have a lot of mature players on this team and that we all understand that, if the team does good, we'll do good," Lee said. "If we win, everybody wins. So, that's just our mindset – to go out there and compete for a championship, and the rest will take care of itself."
Lee said he's happy Hornets have his Bird Rights, and he likes his situation in Charlotte. But, with so many Hornets entering free agency, what if the outlook looks dramatically when Lee is ready to sign somewhere?
"As team change, scenario changes. So, just have to wait it out and see how it goes in free agency," Lee said. "But I'm pretty sure a lot of guys will be back."