AUBURN HILLS, Mich. – Enes Kanter badly wants to control his basketball career.
When he began playing the sport in Europe, he plotted his NBA future before even knowing how to pronounce the league's name. "I was saying N-B-Ah," Kanter said. He'd move to America in high school, because it'd be easier to assimilate when younger. He'd play college basketball and get drafted by a team that coveted him. Then, he'd have a long and fulfilling pro career.
But reality had other plans, thrice leaving Kanter without control and pleading with someone who held great influence over his future:
1. After a year at a California prep school, Kanter enrolled at Kentucky. But the NCAA deemed him ineligible due to benefits he received while playing for Fenerbahçe – despite Kanter rejecting a multi-million-dollar offer from the Turkish team to come to the U.S.
"I told the NCAA, 'Let me play. Let me not play my first year. Let me play my second year,'" Kanter said.
Kanter insists he would've stayed at Kentucky another season, even though his draft stock remained high. But the NCAA ruled him permanently ineligible. So, Kanter declared for the draft.
2. The Jazz picked him No. 3 overall in 2011, but he never seemed happy in Utah. He later described his time there as "a three-and-a-half-year frustration" and implied the Jazz weren't professionally run.
Kanter requested a trade last year.
This time, the powers that be acquiesced. Utah traded him to the Thunder.
3. Kanter played well for Oklahoma City, and he wanted to stay. But he was a restricted free agent last summer, and the Thunder didn't make a suitable contract offer.
So, Kanter signed a max offer sheet with the Trail Blazers – even though his team preference remain unchanged.
"I was like, 'Please match it. Please match it,'" Kanter said.
The Thunder did, and Kanter is finally seizing control.
For the first time in his career, Kanter looks on track. He dominates offensively coming off the Thunder's bench, averaging 12.7 points and 8.1 rebounds in just 21.0 minutes per game. This role suits him.
Kanter deserves strong consideration for Sixth Man of the Year. He ranks second in win shares to Tristan Thompson among potentially eligible players: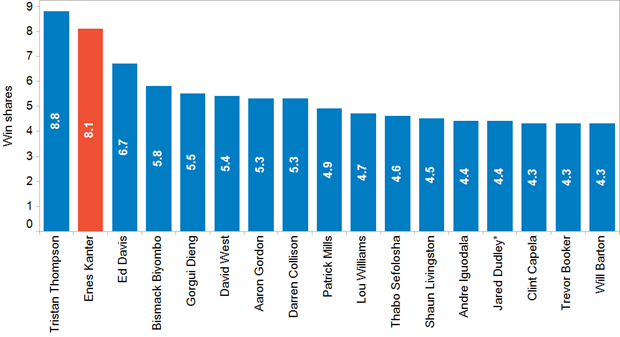 *Jared Dudley will be eligible only if he comes off the bench for the Wizards tonight.
Not that Kanter is thinking about the award.
"Right now, my focus is on really playoffs and trying to win a championship," Kanter said. "If you asked me, honestly, I don't even know my stats. I don't even look at my stats, because I don't worry about it. I don't want to stress about it."
Jazz fans can decide whether the believe that selflessness, but there's little reason for Kanter to stress.
Frequently and deservedly criticized for his defense, Kanter is much more often positioned to succeed now. The Thunder score better, defense worse and play worse overall– though still outscore opponents – with Kanter on the court. But on a team previously lacking depth beyond Kevin Durant, Russell Westbrook and Serge Ibaka, Kanter helps Oklahoma City hold its own when those stars sit.
There's no getting around Kanter's defense. It's abysmal, inside and out. He can't protect the rim. He gets lost on pick-and-rolls, which are already hard enough for him considering a lack of lateral quickness.
But what Kanter does well, he does extremely well.
Kanter carries a big load offensively, scoring efficiently on pick-and-rolls and in the post. He has also learned to blend when sharing the court with Durant and Westbrook. His pick-and-roll chemistry with Westbrook is particularly impressive. And instead of floating for inefficient mid-range jumpers, Kanter crashes the offensive glass hard. He leads the NBA in offensive-rebounding percentage, creating many opportunities for putbacks.
As a general rule, there's a tradeoff between usage and efficiency. Theoretically, a player's shot selection starts with his best shots. Ask him to take more shots, and that means adding worse shots than in the initial arsenal. As usage increases, shooting percentage decreases.
That's what makes Kanter so impressive.
Since the NBA began tracking turnovers in 1977, players have matched Kanter's combination of usage percentage (23.4) and true shooting percentage (62.6) just 14 times:
2015-16 Stephen Curry
2014-15 Stephen Curry
2013-14 LeBron James
2012-13 LeBron James
2009-10 Dwight Howard
2008-09 Shaquille O'Neal
2007-08 Amar'e Stoudemire
1990-91 Charles Barkley
1989-90 Charles Barkley
1988-89 Charles Barkley
1987-88 Charles Barkley
1986-87 Kevin McHale
1984-85 Kareem Abdul-Jabbar
1979-80 Kareem Abdul-Jabbar
In all but one of those cases (Shaq with the 2009 Suns), the player received – or with Curry this year, will receive – MVP votes. Kanter won't – nor should he receive any consideration.
But players with Kanter's scoring prowess typically receive immense adulation.
Why is he different?
Defense is huge, and it limits his overall impact. Being drafted No. 3 raised expectations. So does his max salary.
But Kanter is a backup now, and his peers – other than the rare Andre Iguodala or Manu Ginobili – are also flawed. That's why they're backups.
Salary-cap rules prohibited the Thunder from spending Kanter's money on someone else. So, it was him or bust at any price for Oklahoma City – which the Trail Blazers obviously knew when they extend the offer sheet. They also knew last summer was the last before the cap skyrocketed under the new national TV contracts.
It's time to stop worrying about what Kanter isn't. He's not a defender. He's not a traditional max player. He's not a franchise cornerstone.
But he's someone who, after trying and failing to avoid an uneven path to this point, is having a very nice season for a contender.
That deserves a little more commendation.