AUBURN HILLS, Mich. – Carmelo Anthony doesn't avoid the question.
He snickers at it.
Is he concerned his prime and Kristaps Porzingis' prime won't overlap?
"Well, obviously," Melo said, breaking into laughter.
This – not whether Porzingis plays again this season, not whether Kurt Rambis will remain coach, not whether Phil Jackson has one foot out the door – is the Knicks' fundamental issue. Their two most important players differ wildly in age, which creates major dilemmas in team-building.
Porzingis is just a 20-year-old rookie still learning the NBA. Melo, 31, sees the last of his best years passing him by.
That's why it was believable when a report emerged last summer that Melo felt "betrayed" by Jackson drafting Porzingis No. 4 overall. Melo denied it, and Porzingis said the anonymously sourced report didn't bother him.
"I didn't take it seriously," Porzingis said. "Somebody could've said that. Whenever I met Melo, that's the impression I had of him, and I think that's the impression he had of me."
Whatever the initial impression, it must be much easier for Melo to appreciate Porzingis now.
Porzingis isn't nearly the project many predicted. He has been the second- or third-best rookie (depending what you think of Nikola Jokic) behind only Karl-Anthony Towns, who's having a historically good first year.
Not only is Porzingis productive, he fits well with Melo. Porzingis spaces the floor, giving Melo room to operate in the paint and mid-range. Porzingis' offensive rebounding becomes more valuable with Melo, who gets up shots (sometimes bad ones) rather than committing turnovers. And Porzingis' rim protection covers for Melo's defensive deficiencies. Plus, Melo's ability to carry the offensive load allows Porzingis to be patient with his shot selection and keep his confidence up.
New York, outscored by 2.7 points per 100 possessions overall, has topped opponents by 0.9 points per 100 possessions with Melo and Porzingis on the court. Great? No. But it's a start for a team that badly needs one.
Porzingis has three years remaining on his rookie-scale contract, and then he'll become a restricted free agent (if he hasn't signed a contract extension first). Melo has three more seasons on his deal, a no-trade clause and a trade kicker that gives him financial incentive to get dealt. The Knicks have their two most important pieces locked up – at least if Melo doesn't get antsy. And even then, New York retains control on a trade.
The Knicks can meander forward and ignore the age issue, keeping both Melo and Porzingis. But that'd be a disservice to both. They should confront the big questions:
Can they get good enough to win with Melo and Porzingis before Melo declines? And can they do it without sabotaging a post-Melo future with Porzingis? If forced to choose on direction, which will they pick?
First, they must recognize their unusual position.
Among teach team's three win-share leaders this season, none faces a wider age* range than New York, which features a top three of Melo, Robin Lopez and Porzingis.
*Using a player's age on Feb. 1
Here's the spread for each team's top three: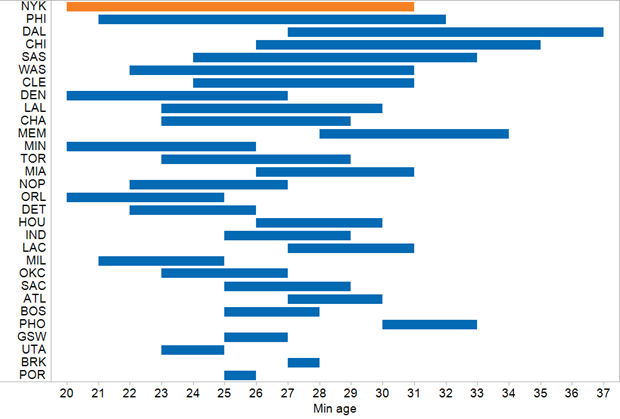 Porzingis spent much of the season second to Melo on the Knicks in win shares, but a late-season slump allowed Lopez to pass him. Over the rookie wall next season (and maybe over Rambis), Porzingis figures to be even better next year.
Plus, Porzingis projects as a center long-term, and Melo has thrived at power forward. If the Knicks are committed to those two, Lopez could be moved.
That all adds up to the likelihood of Melo and Porzingis ranking 1-2 on the team in win shares.
Here are the other teams in the previous 10 years with a top two in win shares who are at least 10 years apart in age: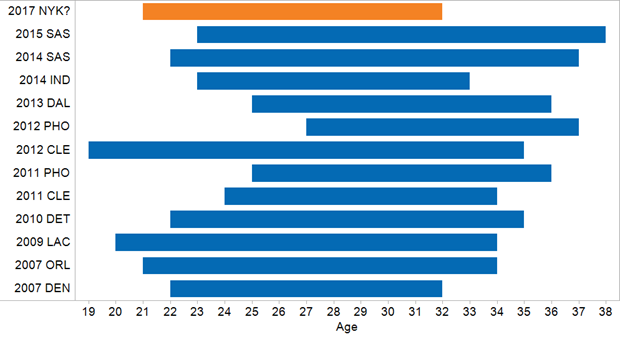 | | | | |
| --- | --- | --- | --- |
| Team | Older | Younger | Age range (years) |
| 2016 NYK? | Carmelo Anthony (32) | Kristaps Porzingis (21) | 11 |
| 2015 SAS | Tim Duncan (38) | Kawhi Leonard (23) | 15 |
| 2014 SAS | Tim Duncan (37) | Kawhi Leonard (22) | 15 |
| 2014 IND | David West (33) | Paul George (23) | 10 |
| 2013 DAL | Vince Carter (36) | Darren Collison (25) | 11 |
| 2012 PHO | Steve Nash (37) | Marcin Gortat (27) | 10 |
| 2012 CLE | Antawn Jamison (35) | Kyrie Irving (19) | 16 |
| 2011 PHO | Steve Nash (36) | Jared Dudley (25) | 11 |
| 2011 CLE | Antawn Jamison (34) | Ramon Sessions (24) | 10 |
| 2010 DET | Ben Wallace (35) | Jonas Jerebko (22) | 13 |
| 2009 LAC | Marcus Camby (34) | Eric Gordon (20) | 14 |
| 2007 ORL | Grant Hill (34) | Dwight Howard (21) | 13 |
| 2007 DEN | Marcus Camby (32) | Carmelo Anthony (22) | 10 |
History is not on the side of Porzingis and Melo lasting together.
Of the above pairings, just two lasted more than one additional season together: Tim Duncan and Kawhi Leonard (who are still going) and Ben Wallace and Jonas Jerebko (who played two more seasons with the Pistons).
The Knicks don't want to emulate that directionless Detroit era, and they probably can't copy the Spurs. Duncan is historic in his longevity, just as Leonard is in his development.
For now, Melo and Porzingis have mostly said the right things about their potentially awkward partnership.
"He's been like a big brother to me," Porzingis said. "…Learning from him and having him at my side – what better situation can you ask for as a rookie?"
But is this the situation Melo seeks as a veteran? Teaching a youngster who's not ready to play a prominent role on a contender?
Porzingis won't talk about how quickly he can reach that level, and Melo is loathe to discuss how much longer he can produce like a star.
"If my prime would overlap with him, I would love that," Melo said. "But…"
Melo trails off, no clear answer to this difficult question.