For the past few weeks (particularly two out of the last three road games), the Warriors have not looked like a team on its way to a record number of wins. They have been sloppy with the ball, unfocused when it came to defensive rotations, and as Draymond Green had said they just looked bored with it all.
The cure? A game against the Spurs at Oracle Arena.
They looked like the troubled Warriors to start — they jacked up quick shots and turned the ball over — but by the end of the first quarter Golden State settled down, went on a 14-0 run, and from there played their best game in weeks. With that, for the second time this season, the Warriors blew out the Spurs at home 112-101 (and it wasn't that close).
That improves the Warriors to 70-9, they become only the second team in NBA history to get to 70 wins. They need to go 3-0 to get the record, and that includes having to play the Spurs again Sunday in San Antonio on the second night of a back-to-back (and their third game in four nights). Stephen Curry — one of the Warriors pushing to get this record — said the team will go after it, but coach Steve Kerr said that Friday at practice the team would talk about rest.
Thursday night was about Golden State getting its groove back.
The Warriors denied this was a statement game, but it has get into the Spurs heads a little with "we have to beat this team four out of seven and once on their court?"
Especially after Popovich decided not to rest anyone and played his core guys (minus the injured Boris Diaw). That almost led to real trouble when LaMarcus Aldridge dislocated the little finger on his shooting hand in the first quarter, but the team doctor popped it back into place and taped it to the finger next to it. That said Aldridge had just 11 points on 16 shots and was not himself in this game.
The Spurs — who clearly missed Diaw, so key for them in this matchup he might start over Tim Duncan in a series — did some things well, such as take away the three-point shot from Stephen Curry. However, one area Curry has improved this season is finishing drives in the paint, and that showed in this game when he took what the defense gave him. Check out his shot chart (and a little video evidence).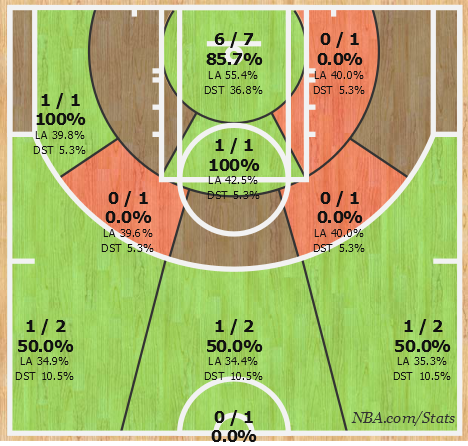 The Warriors had adjusted to what the Spurs did to them when these two teams met in San Antonio (a Spurs win). Harrison Barnes came up big early (14 points, many with Kawhi Leonard on him) and finished with 21 points, while Green added 18. Meanwhile, Golden State's defense did a good job smothering Tim Duncan, who had four points on six shots.
Now it's the Spurs turn to adjust. Do it by Sunday and they can deny Golden State their piece of history.