Two Aaron Gordon stories:
1. The first comes from Pistons rookie Stanley Johnson, who played with and against Gordon growing up in California. They were AAU teammates when Gordon attempted a 360 windmill dunk but over-jumped it, spun too far around and missed the slam with his arm at a crooked angle.
"I was puzzled, like, 'Why didn't you just lay it up?'" Johnson said. "That's just the way he is. He's competitive. Every time he goes out, he wants to prove that he's one of the guys. And that's why I think he'll be successful in the league, because he's going to work hard, and he's obsessed with being great."
2. The other comes directly from Gordon. After his captivating performance in the dunk contest, he missed a couple layups in the Magic's next practice.
"Everyone looked at me like, why aren't you dunking it?" Gordon said. "I kind of looked at myself like, why am I not dunking it?"
————————————–
Gordon smiled wide and nodded confidently, lifting his built arms up and down to urge the crowd to get louder. I'm not sure it could've. Led by a group of delirious All-Stars in the front row, everyone was going wild.
All for Gordon.
For a moment on All-Star Saturday Night, Gordon might have been the NBA's most popular player. Though he'd eventually lose in a second extra round to Zach LaVine, Gordon's under-the-legs dunk after grabbing the ball from the Magic's mascot highlighted the dunk contest and pushed Gordon onto the national stage.
But, for the all the popularity he gained that night, Gordon is still just a role player averaging 9.1 points and 6.5 rebounds per game on a bad team. As the dunk contest showed, he has potential to do so much more.
His great challenge is finding a balance between unleashing and harnessing his athleticism.
"I have a lot of tools in my bag," Gordon said. "I just want to polish them."
The Magic appear more committed than ever to helping Gordon do just that. The No. 4 pick in the 2014 draft, Gordon moved into the starting lineup late last January. A few weeks later, Orlando traded two others who were taking minutes at power forward, Tobias Harris and Channing Frye. Combined with his dunk-contest showing, it's been a whirlwind for Gordon.
"That's what makes the NBA so much fun," Gordon said. "It's always new for me, and I think it always be. That's what's exciting about life, not knowing and then embracing the challenge head on."
The dunk contest often includes up-and-coming players, and Gordon fits the profile. He could follow a well-worn path of players who participated in a dunk contest then reached their first All-Star game in a future season:
Amar'e Stoudemire
Gerald Wallace
Baron Davis
Steve Francis
Tracy McGrady
Ray Allen
Michael Finley
Jerry Stackhouse
Antonio Davis
Allan Houston
Cedric Ceballos
Larry Johnson
Shawn Kemp
John Starks
Yet, there's a major disconnect between Gordon's potential and production.
With his athleticism, Gordon could terrorize opponents defensively, clean up on the glass and hammer dunk after dunk. At times, he does. But it's definitely not a regular occurrence yet.
Here's how Gordon ranks in a few key stats that he could theoretically dominate, ties represented by the range of tied players. Among 281 regulars this season (minimum: 40 games and 15 minutes per game), Gordon's ranks:
Block percentage: 62-64
Steal percentage: 112-136
Offensive rebound percentage: 44
Defensive rebound percentage: 45-46
Field-goal percentage at rim: 73
Gordon has been tremendous one game, dismal the next. He's too often passive, floating on the perimeter offensively or guarding conservatively defensively. The result is middling total production.
"He's too good of an athlete," Magic coach Scott Skiles said. "And he and I talk about it all the time, and he readily admits he's still getting used to the pace of the season and back-to-backs. There's all kinds of stuff going on."
Skiles even said it could take Gordon "a handful of years" to develop proper consistency.
Thankfully for Gordon, time is on his side.
Just 20, the second-year pro is younger than most 2015 first-round picks. He's still the 17th-youngest player to play in the NBA this season. Here are the league's 30 youngest players – rookies in blue, second-year players in silver and a third-year player (Giannis Antetokounmpo) in black: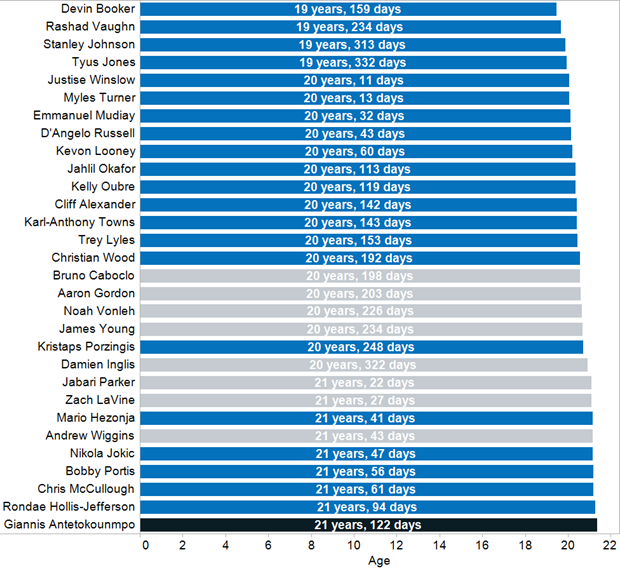 The only second-year player younger than Gordon is Bruno Caboclo, and the Raptors barely use him. Heck, the other four second-year players who are still 20 – Noah Vonleh, James Young, Damien Inglis and Caboclo – have combined to play fewer minutes this season than Gordon.
Gordon could use the experience.
He missed 32 games as a rookie with a foot fracture, and a fractured jaw slowed him during the offseason.
"You're very lucky if life goes according to your own plan," Gordon said. "Obviously, my rookie wasn't how I wanted it to go, but it was exactly what I needed.
"I got to see the game from a different perspective. I understand more now how to take care of your body, how to work smarter as opposed to harder."
Gordon comes across as incredibly level-headed, a trait that has helped him after the dunk contest. He says people tell him every day that he should've won the dunk contest, but he leaves it at: "It could've went either way."
"It's cool, because I got called the people's champion," Gordon said. "It was a little controversy over the dunk contest. It's alright. Nobody lost."
It's a wise assessment.
LaVine took the hardware, but Gordon gained so much. The spotlight is on him now, road fans cheering when he's introduced as a starter. Expectations are already soaring for next year's dunk contest.
Will Gordon's production match his dunking by then? Odds are against it, but maybe by the following year or the year after. Gordon's youth works in his favor, as does Orlando's commitment to developing him.
"We'll stick with him," Skiles said. "We think he's getting better all the time"