The 76ers signed Elton Brand in January to mentor a young roster and provide veteran perspective. The organization wanted someone to guide the team's numerous millennial players, including the one who one day asked Brand:
How did you talk talk to girls before social media?
"We went outside," Brand said with a chuckle, declining to name the teammate.
The 37-year-old Brand – nine years older than all but one of his teammates and 13 years older than most of them – has proved an intriguing fit in Philadelphia. The 76ers have an average age – weight by playing time, holding a player's age constant on Feb. 1 – of 23.3. That's the youngest in the NBA: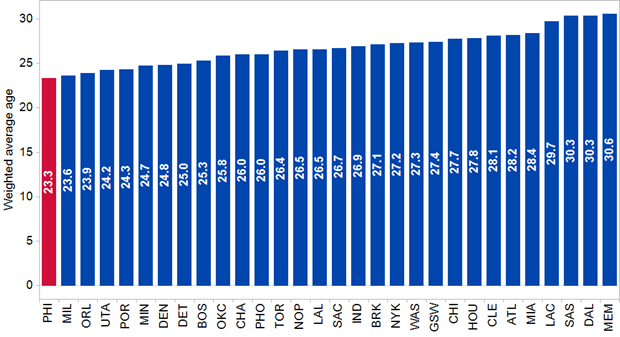 Philadelphia was the NBA's youngest team two years ago, got even younger last season and was headed toward record-setting youth this season. Even 76ers coach Brett Brown acknowledged the team might have gotten too young, calling a pre-Christmas stretch – including Jahlil Okafor's off-court problems – the team's "dark days."
"There was six games maybe where you really scratch your head, and you worry, because we got punched hard in the stomach and the wind was taken out of us," Brown said.
The 76ers hired Jerry Colangelo, traded for 27-year-old Ish Smith and signed Brand. Carl Landry – who, at 32, is easily the team's second-oldest player – got healthy. Philadelphia's youngest player, 20-year-old Okafor, got hurt.
Gradually the 76ers' average age climbed out of record-breaking territory. With just five games left, Philadelphia appears set to finish with the fifth-youngest team of all time – ahead of only the 2005-06 Hawks, 2000-01 Bulls, 2009-10 Thunder and 2015-16 76ers. Here's how this year's Philadelphia team's average evolved through the season: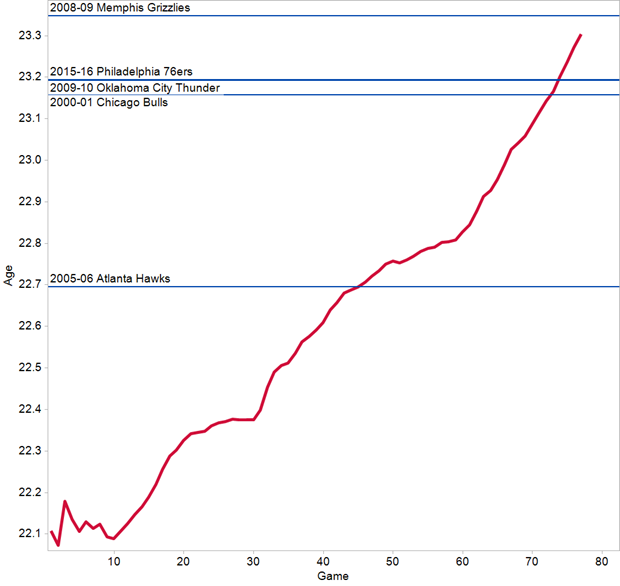 The 76ers are so young, 21-year-old Nerlens Noel – in only his second season of playing – is expected to lead. Though he's in his third NBA season after missing the first due to injury, Noel is still Philadelphia's third-youngest player (ahead of only Okafor and Christian Wood).
"Honestly, I feel a veteran right now," Noel said. "I try to help all the younger guys."
Brown could use the help.
"The magnitude, the volume of that task is significant beyond anything you could've sort of guessed," said Brown, who previously worked as a Spurs assistant coach. "I was spoiled with Ginobili and Parker and Duncan and veterans and gold medalists and NBA All-Stars and MVPs. And it's a whole different planet that I'm on right now. And I love it. I love it."
Just because Brown loves it doesn't mean it's never challenging.
The 76ers will become just the third team to stand as the NBA's youngest three straight seasons, joining the 1965-67 Pistons and 1984-86 Pacers. That means three straight seasons of teaching basics. And re-teaching… and re-teaching…
"It happens – and I mean this – it'll happen 20 times a day," Brown said.
That's why Brown is so happy to have Brand around.
Brown can handle practices and games, but he worries about times coaches aren't around – in the locker room, on the bus, on the road. In those moments, Brand's voice is key.
The 76ers were 1-24 when word leaked they were interested in Brand, and they bottomed out at 1-30. Brand did his best to shut down any petty griping.
"When I first got here, I kind of felt a little bit of that, 'Oh, they're picking on us," Brand said. "One of my quotes, I told them, I said, 'Man, we're last place in the world.' I was like, 'We're last place in the whole world.'"
Though Brand went two months without playing in a game after signing, Brown praised his contributions.
"The power that he wields now, the power that he shares information with the team, is an A-plus," Brown said before Brand made his season debut. "And if you said that's all you're going to get for the rest of the year, I'd give him a big hug and say thank you."
Brand initially focused on playing hard in practice. As part of Team USA for the 1999 Tournament of the Americas, Brand watched NBA veteran teammates Tim Duncan, Gary Payton, Tom Gugliotta and Jason Kidd. When Brand finished practice, he'd leave to get a sandwich. They stayed for extra workouts.
That made an impression on Brand, who was just drafted No. 1 by the Bulls.
A year later, Chicago would be the second-youngest team of all time. Brand laughs about how he's come full circle, though he's quick to note how much veteran leadership he received as a rookie before the Bulls committed more fully to rebuilding.
Brand wants to pass on the lessons he learned, including training hard between games – even when his 37-year-old body isn't the most cooperative.
"I kind of have to. That's my role," Brand said. "Extra treadmill, extra – when we play full court, I'm trying to kick ass. Some days, I am. Some days, eh. But I'm going hard – took a charge in pickup, dove for a loose ball in pick up."
Brand differs from most veterans, because he's not worried about a younger player taking his job. He already announced his semi-retirement once. He doesn't sound like someone who'd mind his career ending here and returning to picking and dropping off his children at school.
This is not the same Brand who became an All-Star with the Clippers.
"Whoever was behind me wanted my spot," Brand said. "He wanted my spot. If he didn't play, he was sulking kind of. That guy would be like, 'I should be playing.'
"I don't want to take an opportunity from the young guys to grow. Me playing 12, 15 minutes, Richaun Holmes could've had that 12 or 15 – you know what I mean? – and really got NBA action.
With the 76ers facing frontcourt injuries, Brand has moved in the rotation. But his mission remains similar: Helping the team's young players grow. He beams when talking about the progress of Okafor and Holmes.
Brand might be a positive influence, but he alone has not changed Philadelphia's identity. This team is too young for one player to do that.
The 76ers know who they are, and they embrace it.
"It's a great experience, being able to have so many guys around the same age, very common goals and common understandings. We all listen to the same music and all that," Noel said. "So, it's great. We get a long great."