What if Derrick Williams never faced the burden of being the No. 2 overall pick?
He considers that question often.
Would he have developed better on a winner picking lower in the 2011 draft? Would he be on his third team in five years? Would he have thrived without enormous expectations?
The low point came in his second year with the Timberwolves, a team headed toward its eighth straight losing season. That November, he fell out of the rotation.
"When you have your teammates asking you, 'Why aren't your playing?' or 'Why didn't you play tonight?' or 'Why didn't you play this week?'" Williams said, "it takes a toll on you, man."
Minnesota traded Williams to the Kings early in his third season. He thought he'd get a fresh start in Sacramento, and for a while, the results looked promising. But the Kings had three head coaches last season, which troubled Williams.
"I wanted to get out of that environment," Williams said
Finally, Williams got his chance last summer.
After being locked into the NBA's rookie-scale system for four years, he could pick his team. He bet on himself, signing a two-year, nearly $10 million contract with a player option with the Knicks after strongly considering the Mavericks and Wizards. If anything, the price tag seemed too high given his lackluster play his first four seasons.
But Williams is rewarding Phil Jackson's faith with the best season of his career. A couple small tweaks in his approach have moved Williams' production into the positive side of the ledger.
"There's a reason why I went so high in the draft," Williams said. "Like I said, this league is about opportunity, situation and timing – those three things right there. And if you have good opportunity, situation is right, and the time is right on point, you can't be stopped."
Williams knows plenty about those factors going wrong.
He was the consensus No. 2 prospect behind Kyrie Irving in 2011, no matter how the lottery shook out. Williams had just played an awesome sophomore season at Arizona, and the next tier of prospects came with major drawbacks. Though he was fairly locked into the second slot, Williams was probably closer to No. 1 than No. 3.
The Timberwolves drew the second pick, and Williams' poor fit immediately became apparent. They were already overloaded at forward with Kevin Love, Wesley Johnson, Martell Webster, Michael Beasley, Anthony Tolliver and Anthony Randolph. But David Kahn, reasonably with the information available, deemed Williams too valuable to pass up. Kahn just never modified the roster to help Williams (or anyone, really) shine.
Williams quickly diagnosed his situation and, given his draft status, realized his fundamental problem in Minnesota.
"What they expected," Williams said, "they weren't going to get."
The logjam in Sacramento wasn't nearly as large, but the Kings traded for Rudy Gay a couple weeks after acquiring Williams. It was downhill for Williams from there.
Worst of all, Williams let his detractors dictate his play.
He heard critics questioning his shooting ability. So, he tried to prove them wrong by hunting outside shots.
Then, he heard them questioning his driving ability. So, he relentlessly attacked the rim.
Nothing came in the flow. Everything was forced.
But Williams is letting the game come to him now, and it shows in his efficiency.
Most of Williams' numbers resemble prior seasons. He's not shooting better inside or outside the arc. He's not rebounding better. His defensive metrics remain poor.
Williams improvement can be chalked up entirely to two areas: free throws and passing, and it's mostly free throws.
By reacting to defenders rather than critics, Williams has excelled at inducing contact. He has always drawn fouls well, but he has reached a whole new level this season.
Williams' 10.0 free-throw attempts per 100 possessions – which ranks 12th in the NBA (minimum: 400 minutes) – are by far a career high: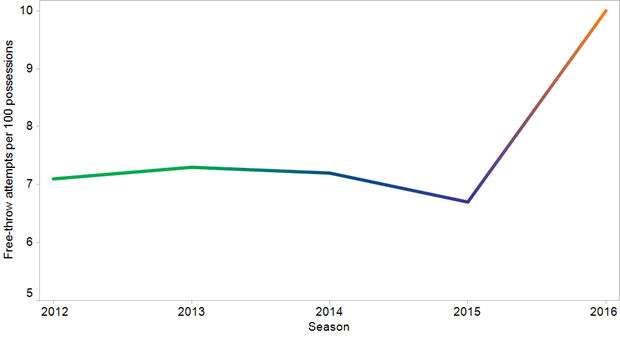 Williams is making those trips to the line count.
In Minnesota, they called him "1-for-2," because it seemed like he always split at the line. The nickname even carried over to Sacramento.
That didn't sit well with Williams, who said he focused on free throws this offseason.
The result: Williams is making a career-high 75.2% of his free throws this season: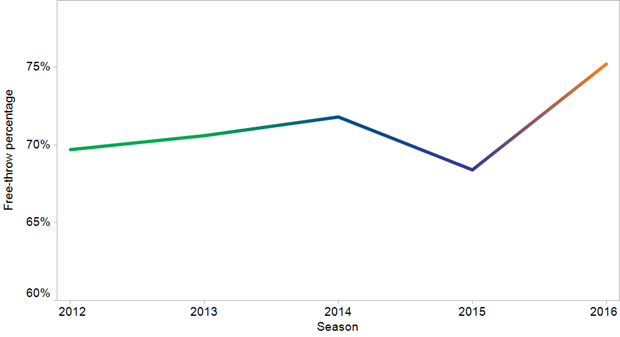 Williams' comfort with the ball in his hands has also helped him develop a passing game that was non-existent prior. His driving ability opens passing lanes, and Williams is taking advantage at a reasonable rate.
His assist percentage (blue) is a career high, his turnover percentage (orange) a career low. And for the first time, the latter tops the former: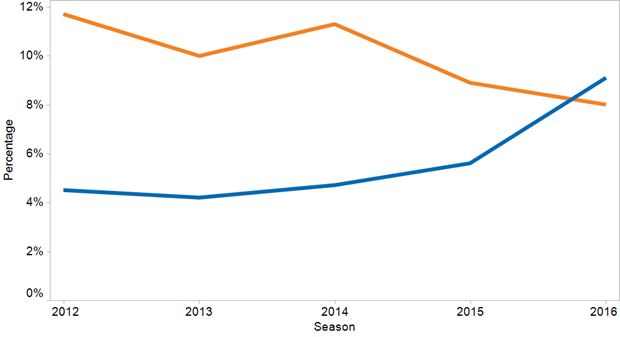 As much as this is a feel-good season for Williams, New York isn't taking full advantage of his capabilities.
The slow-paced Knicks, bent on running the triangle in the halfcourt, score the fewest fastbreak points per game in the NBA. They don't have many players who can get out and run with Williams, so at times, it seems like he runs a one-man fastbreak.
Despite his limited role (17.2 minutes per game), Williams has scored 19.0% of New York's fastbreak points.
Here are the 48 players who've scored at least 15% of their team's fastbreak points, Williams marked with a  Knicks logo. As you can see,  he's a huge outlier with his playing time: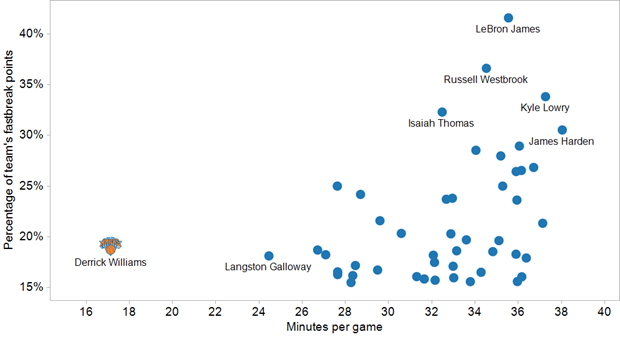 The above list is littered with impact players, in part because, they play so much, they're bound to score in transition – but also in part because players athletic enough to excel on fastbreaks tend to do other things well, too.
The prospect of Williams rounding out his game – refining his shooting stroke, using his explosiveness to defend and rebound better – should intrigue teams. He's just 24.
Until this season, Williams had been a drag on his teams, who were hoping playing him would pay off in the long run. It's much easier to bet on a player's upside when he's contributing positively in the interim.
Williams wouldn't say whether he'll exercise his $4,598,000 player option, but it seems likely he'll opt out to take advantage of the salary cap skyrocketing. I wouldn't be surprised if his salary doubles.
The risk Williams took with a one-and-one contract is on the verge of paying off. He says he never fretted about the risk of bypassing a long-term deal. Instead, his primary goal for the season was rehabbing his reputation.
"I'm not necessarily worried about, I wouldn't say, money situations or injuries or things like that. I think, if you just enjoy the game, things happen for a reason, man. Injuries happen," Williams said before his tone changed ever so slightly. "Playing well happens."