Here's what you missed from the NBA on Tuesday while you were busy putting a hockey puck in a hydraulic press…
1) Oklahoma City held on in the fourth quarter, Russell Westbrook's a beast, Houston's playoff hold gets shakier. That headline sums up the takeaways from the biggest game on the schedule Tuesday night. The narrative around the Thunder has been about them not playing well down the stretch of games and blowing leads at a Sixers-level pace, but on Tuesday the Thunder got 14 points from Russell Westbrook in the fourth and held on to beat the Rockets 111-107. James Harden had 9 of his 24 in the fourth, and he had 16 assists on the night, but he also had the turnover that sealed Houston's fate late. The best news for the Thunder is they played better defense in the fourth, forcing several key turnovers and making enough plays. And nobody was making plays like Westbrook, who dropped his 15th triple-double of the season.
The loss leaves Houston in the eighth and final playoff slot in the West, just half a game ahead of Utah. That said, I expect the Rockets to make it — Dallas is just half a game and Portland just one game ahead of Houston and both those teams are 3-7 in their last 10 (and the Mavericks just lost Chandler Parsons for a while due to knee surgery).

2) Tony Allen goes 12-of-12 shooting for 27 points, but it's not enough as Grizzlies fall to Lakers 107-100. This is how much injuries have depleted the Grizzlies' roster — they are turning to Tony Allen for offense. The same Tony Allen that the Warriors decided to "guard" with Andrew Bogut during the playoffs last season so Bogut could help on anyone and everyone else. Give Allen credit, he performed on Tuesday in Los Angeles — check out that shot chart: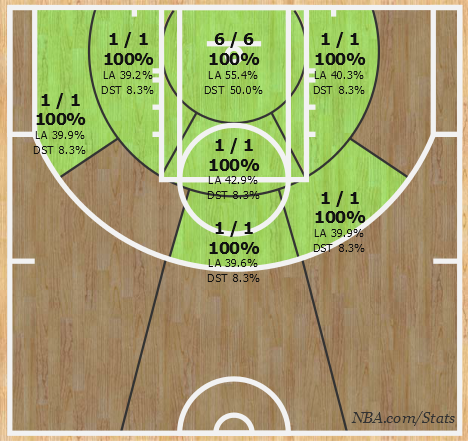 Of course, the fans came to see Kobe, and he gave them 20 points (on 7-of-18 shooting) and backed down Matt Barnes a few times. The scary part for Lakers fans was seeing D'Angelo Russell go down with what the team is calling a shin injury (in reality it looked like a knee-to-knee collision), but postgame Byron Scott said it wasn't serious, and he hoped Russell could play Wednesday in Phoenix.
3) Dunk of the night? Let's go back to Westbrook. Nobody is as explosive in the NBA as Russell Westbrook.