Kobe Bryant has dismissed the idea that the younger generation doesn't have the work ethic that he and Kevin Garnett and others of his generation had.
"The elder statesmen always say this younger generation has no idea what they're doing, they're going to absolutely kill the game," Bryant said recently. "'The game, when we played, was pure and all this kind of stuff.' Hey, man, that's always the case. When we came in, we were just young kids that wanted to play."
He said it's about mentors and about the drive of that individual player (and noted college is far from assuring a player a good mentor). Kobe's mentorship style is old-school — challenge the guy, test him, and see if he'll rise up to meet it.
He's not sure young Bucks star Giannis Antetokounmpo is doing that. Bryant and Antetokounmpo spoke for a while after the Bucks and Lakers played Monday, and Kobe said he challenged the athletic Greek star, via Matt Velazquez of the Journal Sentinel.
"I talked to him for quite a bit. I was in there with Jason [Kidd] and we were just kind of talking a little bit. Jason was saying the biggest thing for him is to decide what he wants to be — does he want to be a great player or not? I said, 'Listen, that's just a choice you're going to have to make. If you want to be that great player, you have to make certain sacrifices and you've got to go after it.' He has the potential to do it. He has the physical tools, the intelligence. Now it's just a matter of believing in himself and going after it. He has the talent to be a great player.

"I told him, 'Listen, if you want to get to that level, this is what you have to do: you have to work on your jump shot. The first time I played him, I backed off of him. Today, I backed off of him again. I didn't see any improvement. I like testing young guys to see that. I said, 'The summertime is the time when you have to make that leap.' I was making 1,000 shots a day, so that's what it takes."
Antetokounmpo's confidence — and the Bucks' offense — has looked better in recent weeks as they have started using him as a point forward who runs the offense. But he has a long way to go. And Kobe is right about the jumper. If you want proof, here is Antetokounmpo's shot chart for the season.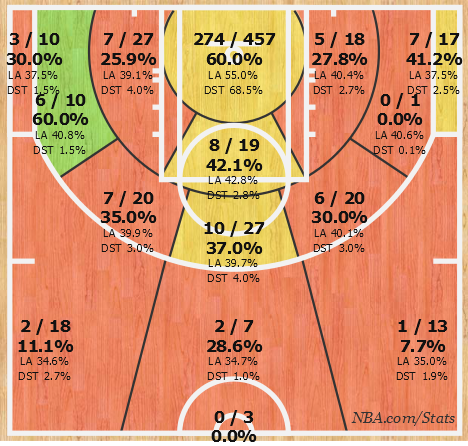 We'll see if Kobe's challenge pays off next season for the Bucks.