Byron Scott removed D'Angelo Russell and Julius Randle from the starting lineup and cut their minutes.
Then, the Lakers coach announced he hadn't even talked them about their demotions.
Matters got worse Sunday, when Scott benched Randle and told him, "You've gotta grow up." Randle didn't appreciate that.
This all sounded familiar to former NBA player Stephen Jackson, who spent his rookie season with Scott's 2000-01 New Jersey Nets.
Jackson, via 120 Sports:
D'Angelo Russell and Randle, do not pay attention to Byron Scott.
I made the Rookie All-Star Game at the end of the break, and after the break, he did not play me no more.

He is the worst communicator for young guys. I would not advise a young player to even listen to Byron Scott, because he is the worst coach at communicating with young guys, and I'm living proof.
Here are Jackson's minutes during his rookie year. Starts are red. Games off the bench are blue. DNPs are black. The silver line represents the All-Star break.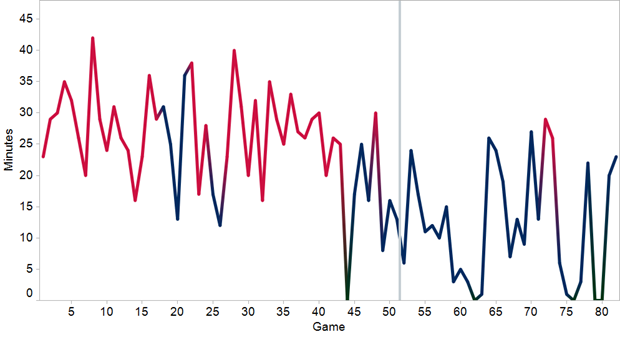 That's pretty up and down – emphasis on down after the All-Star break.
For what it's worth, Jackson hasn't always gotten along well with other coaches. See his complicated relationship with Gregg Popovich.
But I'm not sure Scott would debate the facts here, merely the characterization. Scott seems to believe ignoring young player isn't poor communication, but forcing them to take their lumps and get tougher.
I agree there's value in overcoming adversity. I just don't think this much self-imposed adversity on a team makes much sense.