It's bowl game season — although I'm fully in the "New Year's Eve, are you kidding?" camp — and if you were watching Leonard Fournette and LSU run all over Texas Tech Tuesday night rather than watching the NBA, we understand. We've got you covered. Here's what you need to know from a Tuesday night around the Association.
1) LeBron finds his jumper, drops 34 in Cavaliers win. Tuesday night started with the NBA Twitterverse buzzing about this stat, via NBA.com's John Schuhmann: LeBron James has been the worst shooter in the NBA this season outside the paint, hitting just 28.5 percent of his shots. The problem is he has been settling for those shots and missing them.
Tuesday night in Denver LeBron found his jumper. At least for a night. Check out his shot chart from Tuesday where he dropped 34 in the Cavaliers' 93-87 win over the Nuggets.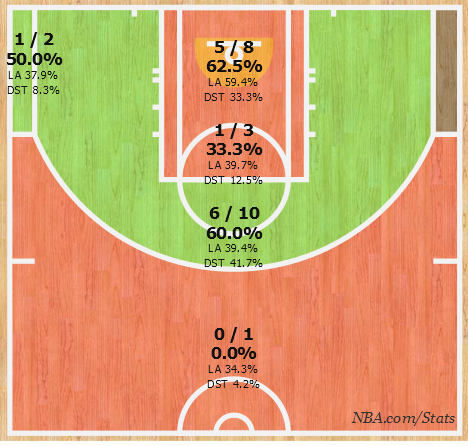 LeBron was 7-of-13 outside the paint against Denver — and he did it wearing sleeves (he's not a fan). LeBron's jumper is just another trend to watch this season. Right now in the NBA it is Golden State and San Antonio as a clear one-two, then a big gap back to everybody else; Cleveland is the clear best team in the East but it is not playing on the level of the top two from the West. There are a few factors at play here, such as getting Kyrie Irving fully integrated into the offense again, Kevin Love breaking out of his December doldrums (in his last 10 games he is scoring just 13.7 points per game on 40.2 percent shooting), the bench being consistent, and LeBron knocking down his jumper with regularity. The Cavaliers have until June to figure all that out. Tuesday night may have been a step in that direction.
2) Brandon Jennings stepped on the court for the Pistons for the first time this season. When last we saw Brandon Jennings he had gone down with a torn Achilles that ended last season for him. Tuesday night he returned to the court, and it was good to see — he played 16 minutes (including garbage time), was 2-of-4 shooting, and while he looked creaky as you might expect, he also already looked like an upgrade over Steve Blake as the backup point guard. There are a lot of questions still to answer — can he play next to Reggie Jackson? Will the Pistons try to trade Jennings? — but for now it was just good to see him on the court.
3) Paul Millsap blocks Trevor Ariza then Dwight Howard to preserve Hawks' win. Atlanta had just gone up two on a sweet little bank by Al Horford, it was now 117-115 Atlanta over Houston. The Rockets came down looking for the tie — and Paul Millsap said not today my friend. He shut down the driving Trevor Ariza, and when the ball caromed to Dwight Howard Millsap blocked him, too. The Hawks went on to get the 121-115 win.
4) Marc Gasol with the circus shot — then celebrates with a shimmy. That Memphis big man Marc Gasol hit a circus shot while stumbling after a foul is fairly impressive. But what makes this video worth watching is the shimmy celebration at the end. You never see Pau shimmy.
5) Carmelo Anthony makes a young fan's night with dap. 'Melo could afford to be in a good mood, his Knicks were looking better and picked up a nice win at home against he Pistons, 108-96. Anthony had 24 on the night. But this little dap to a kid sitting courtside probably meant the world to this youngster.