Goran Dragic has not looked comfortable in Miami all season, rather he has looked hesitant and passive. He is scoring 10.9 points per game on 43.1 percent shooting, which would be his worst marksmanship since his rookie season. He's dishing out just five assists a game. The Miami Heat offense is basically the same whether he is on the court or not, which is not what you want for a guy you just signed to an $85 million contract last summer.
Dwyane Wade gave Dragic some not-so-subtle advice during the Heat's eventual win over the Grizzlies Sunday, as reported by Jason Lieser at the Palm Beach Post.
"Shoot the (expletive) ball," Wade recalled telling Dragic in the third quarter of the Heat's 100-97 win over Memphis.

He continued, "It's simple. We want him to be aggressive. I know what he was seeing. You get out of rhythm sometimes, but I still want him to be aggressive. When I'm penetrating and I kick to him, be ready to shoot. He needs to hear that we want him to be aggressive and shoot the ball at the right times. When he's off the ball, he becomes a scorer. It's my job. We've got a great relationship, and I can talk to him that way."

The play that set Wade off came with 6:50 left in the third. Wade drove and passed to an open Dragic in the right corner, but Dragic declined the 3-pointer and gave it to Luol Deng on the wing.

"He turned it down and threw it to Lu and we got a bad shot," Wade said. "I felt like he needed to shoot. Shoot the (expletive) ball. I told him that because we need him to do that. He's a very good shooter. He needs to have that mentality."
The problem with Dragic shooting more is he was 3-of-14 from the floor overall and 0-of-3 on corner threes in the contest. Call it confidence, call it a family issue, call it not feeling comfortable next to another ball dominant guard (Wade) and a center who clogs the paint (Hassan Whiteside), call it whatever you want, Dragic is not getting shots he likes and not hitting the ones he takes. Here is his shot chart for the season.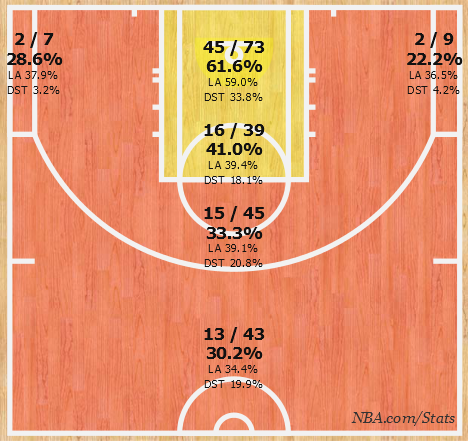 Whatever is going on with Dragic, if the Heat are to become the team that rises out of the crowded second tier of the East – with Chicago, Toronto, Charlotte, Indiana, Atlanta, maybe Boston — they are going to need the $85 million Dragic. Not the one that has spent most of the season looking uncomfortable. And it may be more than just shooting the %$&#@!* ball.