Last season's Golden State Warriors won 67 games and the NBA title.
This season's Golden State Warriors are better.
If you take one thing away from Tuesday night's comfortable Golden State win over Indiana — or their 23-0 start to the season — it should be that. After a close first six minutes Tuesday, the Warriors went on a 20-0 run, led by 30 at one point, took their foot off the gas a little too early but still coasted in for a 131-123 win over the Pacers.
Golden State extended their record winning streak to start the season to 23 games. They were led by Klay Thompson with 39 points, but he sprained his ankle late, and while X-rays were negative he could miss a couple of games.
Not that it matters to these Warriors. They are without their coach. They are without Harrison Barnes. None of it matters. The fact that Bankers Life Fieldhouse was going nuts because the Pacers got within seven points with less than a minute to go — a nearly impossible deficit to overcome — tells you how this game went. And how desperately their fans wanted it to be a game.
The Pacers were not bad on this night. Paul George had 33 points (on 27 shots), C.J. Miles added 24, the Pacers had 60 first half points. The Pacers' defense was not great — they struggled to handle switches or to get around picks between guards/forward — and they let the Warriors get too many three pointers early. Still, it wasn't as bad as giving up 79 points in the first half would suggest.
It's just that right now, if the Warriors are focused (and they were for this nationally televised, hyped showdown) there is nobody in their class. It doesn't matter that Stephen Curry bordered on human, with 29 points but only shot 3-of-11 from beyond the arc. Nor is it relevant Draymond Green had eight points on 13 shots. The Warriors find ways, such as centers Andrew Bogut and Festus Ezeli combining for 26 points on 12-of-16 shooting.
Look at it this way, here is the Warriors shot chart for the first half.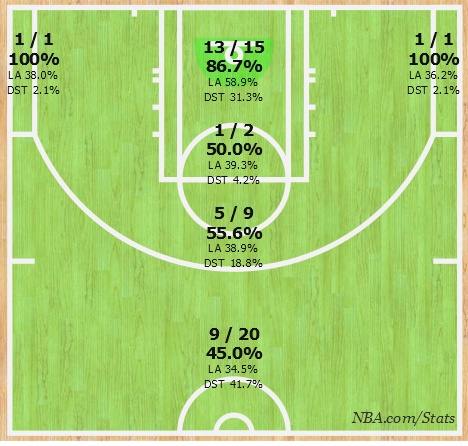 The game only got interesting because the usually reliable Warriors bench couldn't hold a 28 point lead entering the fourth quarter. The Warriors' starters had to come back in and secure the win, but it was never really in doubt.
The Warriors have two games left on this road trip, Boston on Friday night followed by the Bucks on Saturday. They need just five more wins to get to their Christmas Day Finals rematch with the Cavaliers undefeated. And that seems like a reasonable thing.
For the Pacers, they now see where the bar is set. They were not ready to clear it Tuesday night; they are not ready to clear it this season. But this is still an improved team and one of the best stories in the NBA.
But the Warriors remain THE story in the NBA.