A few Grizzlies disliked this tweet: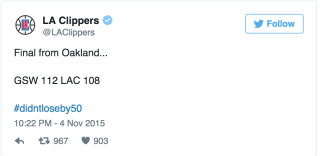 The Clippers didn't appreciate it, either.
Ben Bolch of the Los Angeles Times:
This is a good line for the Clippers to walk. They can get the publicity generated by the tweet while maintaining the moral high ground.
As long as they didn't fire the employee – an overreaction for a minor offense – I'm fine with this. I wouldn't want my team bragging about how it lost.
Now, we can move on, the Clippers solidifying their reputation as the NBA's villains without having to acknowledge they want the title.