In probably the best game of the young NBA season — when you consider the level play, the atmosphere in the arena, the talent level on the court — the Golden State Warriors came from 10 back in the fourth to beat the Los Angeles Clippers by four, 112-108.
If you're wondering why the Clippers are hated around the league, it is things like what they did on Twitter after that loss (what you see below is a screenshot, the Clippers took the original tweet down).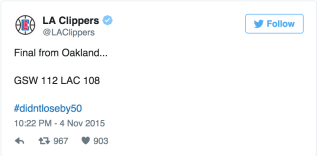 The #didntloseby50 hashtag was a dig at the Memphis Grizzlies, who were blown out by 50 at the hands of Golden State earlier in the week.
As you might imagine, the Grizzlies were not amused. Here are some comments, via the Commercial Appeal from after Memphis' practice.
Courtney Lee: "It's childish. We took our L and we kept it moving, right? We lost by 50. We didn't cry over it, and went on to the next one. Apparently, they're holding on to it. That's what they got to do to overshadow their loss. Last time I heard, a loss is a loss. But that's what they do over there."

Tony Allen: "You ever seen the movie 'White Men Can't Jump'? It's like those brothers would rather look good in a loss than look bad in a win. Whoever is in charge of their Twitter should be fired. I've never seen anybody broadcast losing. Who's proud of losing — whether it's by one, two, three or 50? Enough said."
The best reaction, however, went to the Memphis coach who tried to go the full Popovich.
Coach Dave Joerger: "I don't do Twitter."
Around the league, many detest what they see as a sense of unearned arrogance around the Clippers — they're cocky, they talk back to officials, and they haven't even gotten out of the second round yet. The lack of humility eats at others around the league.
The next Clippers/Grizzlies game is going to be fun.