The Mavericks' 103-93 win over the Lakers and the Raptors' 106-87 win over the Bucks last night gave a couple coaches franchise milestones.
Rick Carlisle passed Don Nelson for most coaching wins in Dallas history, 340. Dwane Casey took the Toronto record from Sam Mitchell with his 157th win.
Here's each team's franchise leader in coaching victories: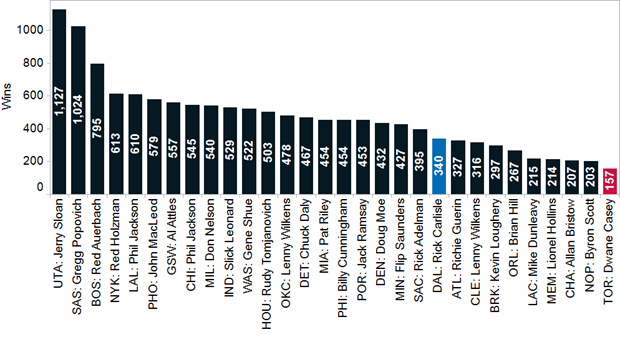 ABA wins are includes for the Pacers and Nets.
Carlisle has done a fantastic job in Dallas, where he guided the Mavericks to their only title in 2011. He has grown tremendously, becoming a better communicator and more creative offensive coach. Combined with the defensive chops he showed with the Pistons and Pacers, Carlisle has cemented himself as one of the NBA's best coaches. Carlisle should have a chance to build on his record.
Casey had the lowest bar to clear to become a franchise's wins leader, and that's reflected in his tepid job security. He has put a floundering team on track, though the Raptors surprisingly regressed defensively last season. And Casey has yet to win a playoff series despite holding home-court advantage the last two years. If Toronto's defensive improvements hold up, he should keep his job beyond this season. But for a franchise's all-time wins leader, he still must prove himself.