LOS ANGELES — Through three games, Kobe Bryant has looked older, slower, without the same lift after his injuries, and not willing to accept any of it. He's averaged 17 shots a game, hitting 31.4 percent of them (20.7 percent from three where he's launching more than nine shots a night), and he's struggling on defense. It hasn't been pretty.
Kobe was more succinct assessing her performance after a 3-of-15 shooting night in a loss to Dallas Sunday.
"I'm 200th best player in the league right now. I freaking suck."
That's a reference to ESPN's NBA rank, an effort by the site to rank nearly every player in the NBA, and they had Kobe 93rd best this season. Kobe always used that kind of doubt for fuel, but that only works if you play above the expectation. Kobe has not, as evidenced by his shot chart so far this young season (notice all the threes).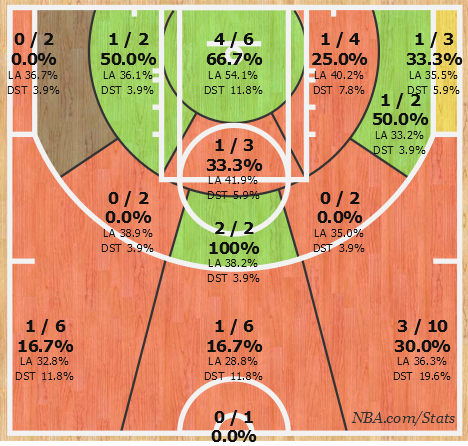 As always, Kobe is not afraid to launch a shot with a defender in his face — nine of his 17 shots per game have been contested (a defender within four feet), and he is shooting 25.6 percent on those, according to the NBA's Sports VU cameras.
Bryant put it more simply Sunday, "I'm just playing like s***."
He added he's getting the shots from the spots he wants (such as the elbow area), that rookie D'Angelo Russell is doing a good job setting him up, and that he's healthy. Kobe has an effective field goal percentage of 44.1 on his 5.7 catch-and-shoot opportunities a game so far, but just 28.9 percent on his 6.3 pull-up jumpers a game.
"You know it's fun," Kobe said of playing with the young Lakers. "D'Angelo's putting me in the right spots. I just have to capitalize better, that's all."
Kobe admitted being out a couple of weeks at the end of the preseason with a calf injury may have thrown off his rhythm, but he wasn't making excuses or pulling punches. He was honest and demanding about his game, as he is with everyone else.
Kobe added he is frustrated. As you'd expect. At points he tries to play through it and take over like he used to — getting the ball on the wing in isolation, pounding the rock looking for an opening or a place to pull up and shoot. None of it has gone well. It will go better at some point, but he's been off early.
What's the fastest way to turn things around?
"Well, if I'd make a damn shot, that would help," Kobe said.
He added he believes that will happen soon, that he had felt in a good rhythm in the preseason before he got injured, and he thinks he can recapture that groove again quickly. Kobe never lacks for confidence, that hasn't changed.
However, other things change. In recent seasons, the offense ran more through Bryant, and he could become more of a facilitator and not just a scorer if the occasion called for it. Kobe admitted he'd like to do that again, but the young Lakers' guards need to have the ball and learn how to run a team. Even if it's the hard way.
"Sure (I'd like to facilitate), but no, you can't" Bryant said.
As bad as the Laker offense has been, that's been the better side of the court for them. Their defense has surrendered 111.7 points per 100 possessions through three games (third worst in the league) — and they haven't played the real offensive powerhouses of the West yet.
Kobe, how would you describe the Lakers' defense Sunday.
"S***."
That sums up the feelings of a lot of Lakers' fans through three games.