Sunday you likely were parked out the couch, recuperating from Halloween, mindlessly watching Kansas City win one for George Brett, and maybe not paying as much attention to the NBA as you should have been. Here are five yet things you missed (reported live from Staples Center).
1) Houston is 0-3, and all three losses are by 20 or more points. First, I refuse to use the easy/cheesy Apollo 13 line here. Second, we are just three games into the start of a long season, it is way too early to reach for the panic button.
But if Rockets fans are feeling nauseous after watching their team blow a 21-point lead to Miami, lose by more than 20 again, and drop to 0-3 on the season, you can't blame them. ESPN Stats noted no NBA team ever had started the season with three losses of 20 points or more — until the Rockets just did it. And it all starts with James Harden being in a horrific shooting slump to start the season, hitting just 22 percent of his looks. A shot chart can be worth 1,000 words.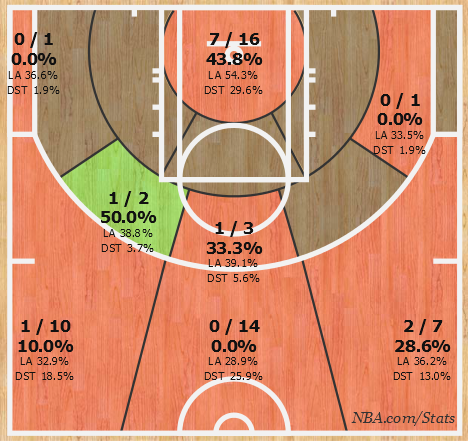 The Rockets' defense has been inconsistent — they gave up 14 points in the second quarter to Miami Sunday, and then 65 points on 58.5 percent shooting in the second half of that game (while scoring just 29). Through three games, Houston is allowing a ridiculously high 109 points per 100 possessions.
It's far too early to panic in Houston, but this leaves wondering what has to happen for Houston to start winning? Harden has to find his stroke from three and knock down some shots, Dwight Howard needs to get on the court and just play, defense needs to be more of a focus for everyone, Ty Lawson has to have an impact, and I could go on but all that would be a start and get them some wins.
2) The Bucks defense has not been pretty to begin the season. Last season, Milwaukee's freakish length and defense propelled them to the postseason. It marked them as a team on the rise. To start this season we have seen none of that, and it has been ugly — the Bucks are 0-3 with a defense allowing 117.1 points per 100 possessions. The defensive rotations seem slow, especially out at the arc which has led opponents to shoot 46.4 percent from three against them. Opponents are grabbing 14.9 offensive rebounds per game. The Bucks are not doing a good job getting back in transition defense. They are fouling too much. Some of these are early season aberrations, and others are easily fixable, but until they do the Bucks are going to struggle.
3) Duncan, Parker, and Ginobili are now the winningest trio in NBA history. We covered this earlier, but with the Spurs' win Sunday over Boston Tim Duncan, Tony Parker, and Many Ginobili have won 541 games together — passing Larry Bird, Kevin McHale, and Robert Parrish for the most all time. As great as that trio was (and Magic/Kareem/Worthy or Russell/Cousy/Jones) the Spurs three should go down as the greatest trio ever. It's jut about consistency — the three have never won fewer than 50 games in a season, never missed the playoffs, and together have four titles. We're going to miss them when they're gone.
Maybe of more interest to Spurs fans, LaMarcus Aldridge had 24 points and 14 rebounds, his first big game for the Spurs. Through his first two games, he had averaged just 11.5 shots per game, but they found him and got him in a groove on Sunday.
4) Kenneth Faried had the block of the young season. Sorry Kyle Singler.
5) The NBA family gathered Saturday to remember Flip Saunders. Mavericks' coach Rick Carlisle was one of the guys on Mark Cuban's plane to the Saunders' memorial Saturday, and before his Mavericks carved up the Laker "defense" Sunday night, he gave this assessment of the event.
"I would characterize it as a perfect ceremony for one of the great people that I've ever known in the league. It was attended by so many people that cared, so many people that he touched. His son gave just a fantastic talk about Flip and his life, his relationship with his son. Flip's one of these guys we can't forget, that's why we're going to be wearing pins all year long. To remember what he did as a coach over a period of two decades, and what he meant to us as a human being. Because along with being a great innovator, and a great creative guy, and a great competitor, he had an amazing way with people, and that touched many of us."`