NBA Thursday night was back and Kenny, Charles, Ernie, and Shaq were in midseason form. Oh, and there were three games as well (only one of which was interesting). In case you were out at a concert, here are three things you missed.
1) Blake Griffin is attacking the rim like old times. Last regular season, Blake Griffin seemed to fall in love with his jumper. The best finisher in the game took 32.8 percent of his shots at the rim (0-3 feet) and 37.8 percent on long twos (16 feet out to the arc). He can hit that midrange now (he shot 40.4 percent on those long twos) but he wasn't attacking the same way. At least until the playoffs. Through a dozen Clipper postseason games, he was arguably the single best player in the playoffs, and 40.1 percent of his shots came at the rim while 21.5 percent were long twos. He was attacking (and playing better defense). He admitted he had held something back during the season to be fresh for the postseason.
It's just a couple of games into the season, but Griffin isn't hesitating this season, he's getting to the rim. Check out his shot chart from dropping 26 points on 11-of-17 shooting on the Mavericks Thursday (he grabbed 10 boards, too).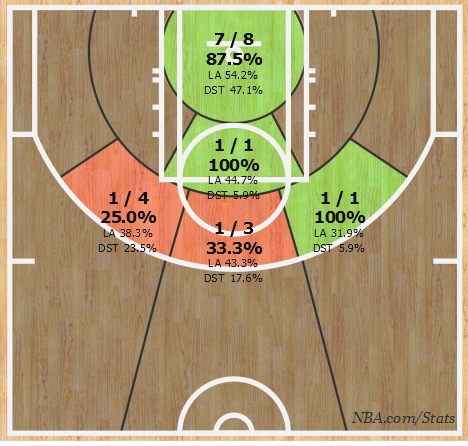 Griffin should pick his spots this season, get some rest, make sure that by the playoffs his batteries are fully charged. But he is attacking early, not settling, and he is 25-of-37 shooting (67.6 percent). And the Clippers are 2-0.
2) Steve Ballmer and Mark Cuban were on the kiss cam together. Well played, Clippers staff.
3) Indiana still has a lot to figure out. Entering the fourth quarter Indiana was up two on Memphis, but one thing became very clear in the second half of that quarter — Memphis has an ingrained identity, they know exactly who they are; Indiana is still trying to figure it out. The result was Memphis putting up 39 points in the fourth quarter, Marc Gasol looking like a stud, and the Grizzlies winning 112-103. Paul George put it this way, via the fantastic Candice Buckner of the Indy Star.
"That's the biggest problem we're having," Paul George said, "just the inconsistency of who we're playing with. Trying so many different groups, we got to establish an identity, and we have yet to do so."
Indiana looks far more like a work in progress than some thought, but it will be interesting to see what this team looks like come December.
One Pacer that impressed was rookie big man Myles Turner. In 18 minutes off the bench he had a good outing with eight points on 4-of-6 shooting, showed some range, had four rebounds, and most importantly brought a combination of aggressiveness and energy the team needed. Keep playing like that and the rookie will get more run.