It's one game, I don't want to read too much into that small a sample size but…
Ricky Rubio was knocking down jumpers and was very impressive Wednesday night against the Lakers.
He finished with a career-high 28 points plus 14 assists, but what caught everyone's eye was he was making the Lakers pay for leaving him open and daring him to shoot. He killed them around the left elbow area. Here's his shot chart from the game.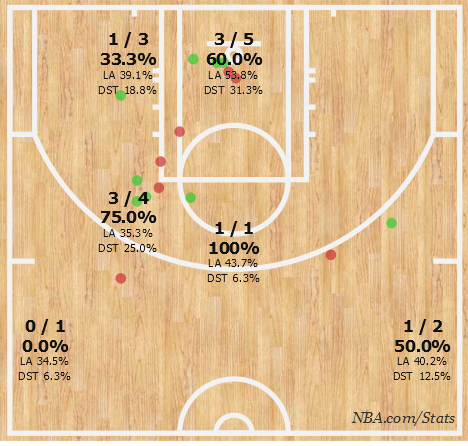 Hearing that Rubio has been working on his jump shot in the offseason is like hearing the new James Bond movie has a car chase. Everybody expects it.
But then you see it, and you're caught off guard by how good it is. For one night at least, Rubio was knocking down those shots and as the defense adjusted he used the angles to set up teammates. Again, it was one night against a not-impressive Lakers' defense, but it's something to watch. Because if Rubio found a jumper the Timberwolves just got a lot more interesting.