With Matt Barnes gone, Doc Rivers has had all of training camp to look at his options at the three. That's plenty time to think about who would start. And the answer is…
Probably. But Rivers isn't saying for sure and is trying to dodge the question, reports Dan Woike of the Orange County Register.
"Again, I think you guys are more focused on who starts than me," he told reporters before Monday's practice. "To me, it's not a big deal. It's who finishes."

Lance Stephenson, who started the last two preseason games, will "most likely" start Wednesday, Rivers said. However, veteran Paul Pierce worked with the starters as a small forward during Monday's practice.
It appears the Wesley Johnson as starter nonsense went away once Rivers plugged him in and got a clean look. Clipper fans should be happy about that. Johnson can still contribute in a limited role, especially if he's asked just to be athletic he'll be okay.
The idea of Pierce coming off the bench to stabilize the second unit and limit his minutes certainly has some appeal. The question is will Stephenson be up to the task? He certainly still can bring some defense on the perimeter, but his shooting remains worrisome. Check out his shot chart from the preseason: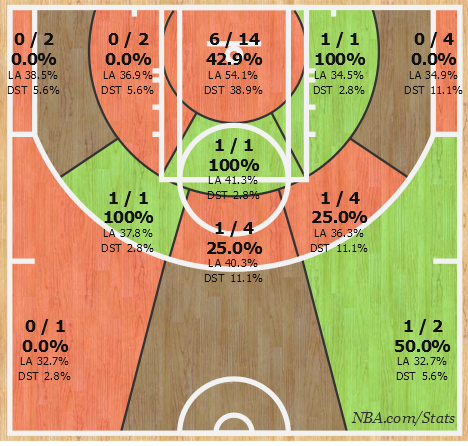 Now that's a small sample size, but Stephenson seemed up and down in the preseason. He'll get a chance to prove he can play off the ball with Chris Paul and Blake Griffin. He's getting the opportunity to show Indiana Lance is still in there.
If not, Rivers has more thinking to do.