Take a look below at Bradley Beal's shot chart — 28 percent of his attempts last season can be considered long two pointers. He shot 33.2 percent between 16 and 24 feet last season — already statistically the least efficient shot in basketball.
Also, notice all that green behind the three-point line.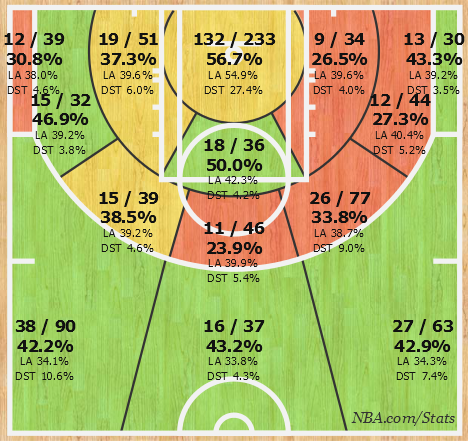 It wasn't just Beal — the Wizards as a team took the fifth most shots between 16-24 feet in the league and the fourth fewest threes per game. It's why it felt like Randy Wittman was keeping the Wizards' offense in the dark ages last season.
This season they are stepping into the light and Beal is going to lead the way, he told J. Michael of CSNWashington.com.
"I did evaluate it after the season," Beal said of the spots where he took so many shots in averaging 15.3 points. "Sat down, looked at film, looked at statistics on paper. It just made sense to eliminate those (long twos). Those are bad shots and as a team that's what we're doing now. We want to eliminate those long 2s as much as possible. Just be aware on the floor. It's going to be hard to say we won't shoot them because there are going to be times when we're going to be open….

"I have been working on my stepback," he said of offseason with Drew Hanlen, a strength and skills coach consultant. "I have been working on my 3s off the dribble this summer."
This is another step in the Wizards trying to modernize their offense — you will see less of the Marcin Gortat and Nene big front line and more small ball with guys like Jared Dudley getting time at the four. That should space the floor and opening up driving lanes for John Wall. And they will look for threes — Wittman rightly says they are not going to pass up an open two for a contested three, but they have to take fewer long twos. It's part of what held the offense back.
It's also good to hear this from Beal, who if he can stay healthy is poised for a huge year. Just how good the Wizards are this season hinges on Beal and Wall taking a step forward together.