Reggie Jackson's game is based around speed — he can get to the rim and few can slow him down. He takes a lot of shots near the basket, but that driving also gets him to the free throw line and opens up passing lanes. He's put up good numbers that way — 17.6 points and 9.2 assists per game after he was traded to Detroit last season.
His shot isn't bad, but as his chart from last season shows "consistent" is not the word you would use to describe it. There's some work to do.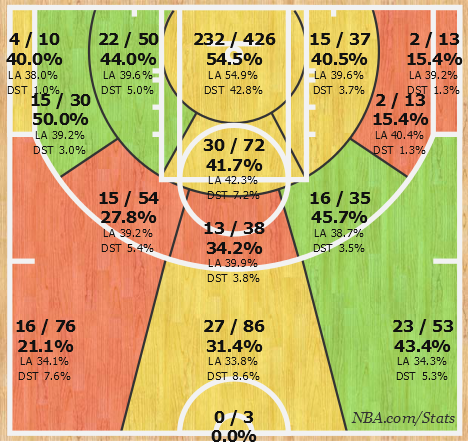 The Pistons think his outside shooting numbers will improve this season because they corrected a flaw in his mechanics, which Stan Van Gundy detailed to the Pistons' official Web site.
I don't remember exactly who detected it first but we noticed he was actually a little knock-kneed on his shot. So as he went into his stance and gather, his knees came together, which was really taking a lot of the power out of his shot. So to generate power, he had to create a lot of motion in his shot and anybody will tell you the more motion you have, the harder it is to be consistent. He worked very, very hard on it and he's got a great-looking shot. So the fact he's been able to get more from his legs and shorten up his delivery, if you look – his release, his follow-through, his rotation on the ball are great. I think he's going to shoot the ball very, very well.
If this works, and Jackson can improve his outside shot, while still getting to the rim and showing off some chemistry with Andre Drummond (they played well off each other at the end of last season), the Pistons become that much more dangerous.
They need him to be, and not just because Brandon Jennings is still out for a while. The Pistons re-signed Jackson to a max contract his past summer, five-years and $80 million — they are paying him to be a franchise player now.