It was one of the big narratives with the Clippers last season — Blake Griffin added a jump shot defenders had to respect.
It was true. He improved, and if he's out just past the elbows or near the top of the key, he can knock it down with some regularity. But he fell in love with the jumper at times and didn't attack, and that was fine with defenders because even that improved jumper was less dangerous than a dunk. Check out his shot chart from last season: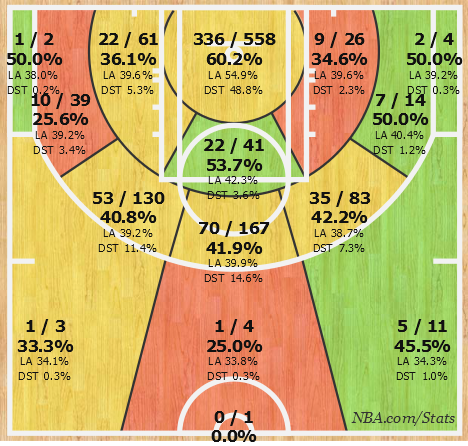 Still, the added jumper he worked on last summer opened things up for him and the Clippers. So what has Griffin been working on to add to his repertoire this summer? He talked about it with Basketball Insiders.
As far as what we worked on, a lot of face up, off the post, off the elbow, a lot of short roll stuff, getting into the lane, floaters – just because we get so much of that with our spacing of the court and how many pick and rolls we run with CP. [I worked on] a lot of stuff actually off the dribble too, just like one dribble pull-ups and things like that. A lot of post-ups too. This summer, I really did a whole lot and kind of mixed it up. Like last summer, I did so much shooting – a lot of catch and shooting, a lot of pick and pop – and I still did that this summer a lot, but I just tried to kind of focus on literally everything this summer….

This year, I'm really trying to perfect that balance of pick and pops versus putting it on the floor and making plays, so that's kind of why I focused on everything this summer. Just being able to use the spacing of our floor, having J.J. [Redick] out there spacing the floor and the same thing with CP when he gets doubled team, [I] just really wanted to being able to have an array of shots and not just focus on pick and pops and catch and shoots.
Griffin touched on the key thing if he is going to take that next step forward — decision making. When to pop out for the 18-foot jumper, when to roll to the basket, when to use that half roll, when to put the ball on the floor and drive to create or create for others. It's a matter or recognizing what the defense is giving you then making them pay for it.
All that will help, although the Clippers' offense was already the best in the NBA last season. The added depth on the Los Angeles roster, more shot options for Griffin will help, but the offense is only going to get so much better. The bigger questions are can they play better defense consistently, and can the added depth on the roster with guys such as Lance Stephenson and Josh Smith come through for them in the playoffs?