The words "Nerlens Noel" and "shooting range" were not used in the same sentence in scouting reports last season. Except with "has no" in between. As evidence, we present his shot chart from 2014-15: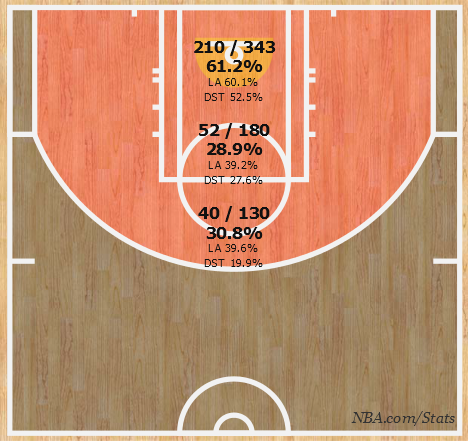 That's a lot of red.
Noel is trying to change that; he's been working on a jumper, he told the Philadelphia Inquirer's Keith Pompey.
"I think it's really going to help me as a basketball player overall, especially at [power forward]," Noel said of the daily workouts. "[It will] help space the floor with my ability and start hitting the jumper consistently and complement our whole offense. And, you know, just changing my whole game and how effective I am….

"It's a pressure year for me to show what I am capable of and definitely show what I worked this hard for," Noel said of the coming season. "So I think I'm in a good position to showcase it all. My ceiling will be better at the four position."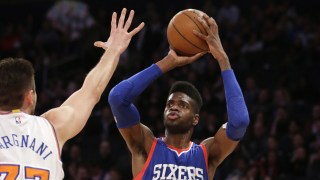 As a practical matter, Noel has to develop some shooting range and step out as a four if he wants to be a Sixer. Rookie Jahlil Okafor is the guy who will be getting the majority of post touches next season, plus there is the possibility of true center Joel Embiid playing the season after that (if his foot heals). The five spot is pretty full in Philly. Noel has to play the four.
Big men considered one-dimensional can develop reliable jumpers, just ask Blake Griffin. The Sixers reconstructed Noel's shot, and it's something he worked on last season at practices and before games. But it was going to require more time and more intensive training, which is what he got this summer.
If he can start to step out to 15-18 feet and knock down shots, his entire game will change — and a Sixers team without enough shooting (Nik Stauskas here's your chance) can certainly use it.
But everyone has seen that shot chart, Noel is going to have to prove it first.
(Hat tip Eye on Basketball)