SAN FRANCISCO — Stephen Curry is an NBA champion. A Finals MVP. A regular season MVP. He set the record for made three-pointers in a season. He even won a Nickelodeon Teen Choice Award.
Is there anything he hasn't won in the last year?
"I didn't win my match with the president on the golf course," Curry, always the competitor, told NBC Sports this week. "Other than that it was a good year."
Curry and his father Dell (a former NBA sharpshooter himself) teamed up to take on President Barack Obama and Ray Allen in a friendly round of golf recently. Curry is a huge golf fan, I met him at the TPC Harding Park course near San Francisco, where he was hitting balls with a swing nearly as smooth as his jumper. The event was put on by Degree, one of Curry's sponsors and which is involved deeply in motion analysis and the study of human movement movement, such as Curry golfing.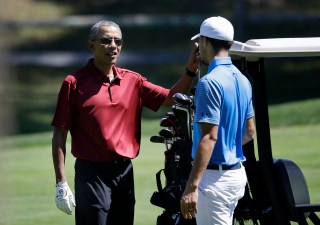 Curry said golfing with the president is a bit of a surreal experience because the course is largely cleared, save for guys in suits with sunglasses and automatic weapons walking around.

"It was a normal day," Curry said. "I got there about an hour early and there were people going off the first tee like every 10 minutes, like a normal course does.

"Then about 20 minutes before the president showed up there was his motorcade of cars, it was basically a ghost town. The Secret Service was in full effect making sure everyone was safe. I'm sure it was the safest golf course in America that day."

Obama talked smack on the course — and his team got the win, Curry said. This wasn't just the well-honed golf game of Allen carrying the president either.

"His golf game is actually really solid, considering the little amount he gets to play with his somewhat busy schedule as the president," Curry said. "But I know he has a passion for (basketball and golf), which is right up my alley."

Curry has yet to play hoops with the president. If they ever do, I'll take Curry's team, he'll want a little revenge.

\