Just a few days ago, fresh off his biggest free-agent score in years, Mark Cuban told a Dallas-area radio station that this summer was do-or-die for the current era of Mavericks contention. They were either going to land a star free agent — as they had just done, luring DeAndre Jordan away from the Clippers — or blow it up and start over, something Cuban has been vocal about his aversion to in the past.
"If we got shut out, we weren't going to just try to fill the roster," Cuban said (via The Sporting News). "We had the discussion that if we couldn't get a serious free agent, whether it was one of the guys still out there or some of the guys who already went, then it was time to take a step back."
Yeah, so, about that.
In the most bizarre sequence of events the NBA has seen since the vetoed Chris Paul/Lakers trade in 2011, the Clippers emerged victorious from the wreckage of the Great Emoji War. Jordan is staying in Los Angeles, and the Mavs are left hanging like Jordan trying to get a high five from CP3, with a ton of cap space and nobody left to spend it on. In the short term, for a news cycle or two, it's a disaster. But if this is the catalyst for Cuban and the Mavericks to finally embrace a full-on rebuild, it could be a blessing in disguise.
Let's be clear about something: even with Jordan in the fold, the Mavericks weren't going to be contending for a title this year. In fact, it was more likely that they'd miss the playoffs than make it out of the first round. The west is too deep for anyone outside of the Spurs/Warriors/Thunder tier to be a sure thing, and Dallas still had (and has) too many question marks on its roster. Their other marquee free-agent signing of the summer, Wesley Matthews, is coming off a torn Achilles, an injury that has historically been difficult to come back from. Starting small forward and master free-agent recruiter Chandler Parsons may or may not have had microfracture surgery on his right knee. Dirk Nowitzki has finally started to visibly decline. They still don't have a clear starting point guard — they were linked to Jeremy Lin recently, but he's off the board now, and they're left to pencil in Raymond Felton for at least some of those minutes, which…no. Elsewhere, their depth is nonexistent.
With Jordan, the Mavs' roster is essentially where it was last year, in the mix for an eighth seed and a first-round exit as they've been every year since the 2011 title run. Without Jordan, and with their other injury and depth concerns, they can hardly be considered a playoff team. And if they're not a playoff team, now is the time to finally start what Cuban has put off for too long. It's time to blow it up.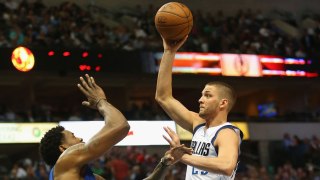 That won't take too much work, as there's not much of a roster to blow up. Parsons can opt out next summer, and if he's healthy it's all but a lock that he will. The Mavs will have barely over $20 million on the books besides that: basically Nowitzki and spare parts. They also have an added incentive to be bad if they want to add to that: they owe Boston their pick next year with top-seven protections. Eventually, they're going to need another young foundational player to transition them to the post-Dirk era. And given their free-agency track record, their best bet to get one is in the draft.
Luckily, if a team is going to be bad in the west, this is the year to do it. Most of the west's bottom-feeders have gotten significantly better this summer. The Lakers and Kings won't sniff the playoffs, but they've both added legitimate talent to the mix. Utah and Phoenix will be in the playoff hunt. Minnesota is a year or two away from contending for the postseason, but they'll be better with Karl-Anthony Towns next to Andrew Wiggins. If Denver doesn't blow up its own roster, there's enough talent there to be mediocre rather than outright bad. The bottom of the west is Dallas' for the taking: they're really only competing with Portland, who are in a similar position after losing four of five starters, including LaMarcus Aldridge.
Without the pressure to contend, the Mavs can bring Matthews along slowly. He's supposedly ahead of schedule in his rehab from the Achilles injury, but he faces an uphill battle that hasn't had very many success stories. They can sit him out the entire season if they want to. That probably won't be necessary, but if they're not fighting for a playoff spot, there's no reason to rush him back when they've just committed $57 million to him over the next four years.
Elsewhere, they have plenty of flexibility. They can take on other teams' bad contracts to pick up extra draft picks. The next time an opportunity comes up like the recent Kings-Sixers trade, Cuban is in as good a position as Sam Hinkie to snag a Nik Stauskas-type prospect for nothing.
The Mavs haven't dealt with anything like this since Cuban bought the team in 2000. It's to his credit that they've always been competitive under his watch, always in the playoff mix and always in the mix to land the top free agents, even if that part of it didn't usually work out. Now, in the wake of Jordan bailing, in the twilight of Nowitzki's career, and without much young talent to speak of, it's time to face the reality that an impressive 15-year run has come to an end. Starting over is going to be rough, but Cuban understands long-term payoff as well as anyone. He's built a rock-solid organization and infrastructure in Dallas, one that's better positioned than most to handle a rebuild. But that's the reality he's been handed.