Dwyane Wade has played 12 NBA seasons, and while he is still capable of performing at an elite level at times, there's no question that his ability to remain healthy for the entirety of an 82-game regular season has long since passed.
Wade appeared in just 62 games for the Heat last season, and 53, 69, and 49 in each of the years prior.
He did finish last season as the third leading scorer in the Eastern Conference behind only Kyrie Irving and LeBron James, however, and believes that 21.5 points per game average proves he can play in this league for at least a few additional seasons.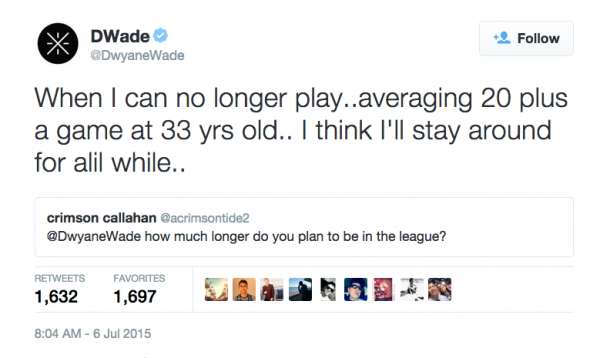 Wade was at odds with the Heat over his contract this summer, before re-upping on a one-year deal that will pay him $20 million.
The problem with Wade isn't his level of production; it's the relative inconsistency. His team essentially has to count on him missing 20 games during the regular season in order to preserve him from a health standpoint, and that's not a small number of games to be forced to play without your leading scorer.
Wade is likely good for a few more seasons, even if it's eventually in a reduced role. But how he performs in 2016 — and how healthy he can remain — will be huge factors in the type of deal he's able to secure on what will likely be his final multi-year contract.