We should all be glad the stupid things we said at age 19 haven't come back to bite us.
Thursday was supposed to be one of the best nights of Larry Nance Jr.'s life — the Wyoming senior was drafted into the NBA by the Los Angeles Lakers. Nance was going to play for the biggest brand, one of the most storied franchises in the NBA. Nance, who has battled Crohn's disease and still requires treatment for it, had made it all the way and was picked No. 27 in the NBA draft. It's a great story.
But as Lakers fans looked closely at him they found this 2012 tweet, which Nance deleted Thursday night (here courtesy CollegeSpun.com.)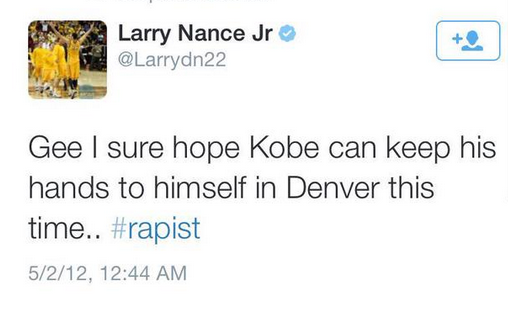 Kobe was arrested for an alleged 2003 sexual assault at a Colorado hotel, where he was staying before getting knee surgery. The criminal case was dismissed when the accuser refused to testify at the trial. The victim later filed a civil suit against Kobe, which was settled out of court and included Kobe publicly apologizing to the woman, but he did not admit guilt.
The Lakers did their homework before the draft, and they knew about the tweet.
Again, none of us wants to have all the idiotic things we said (and did) at 19 dragged out into the public square for discussion. Nance deleted the tweet, and we should all move on. Chalk it up to the mistake of youth.
Although, Nance's first meeting with Kobe is going to be awkward.