NEW YORK – Over the past few years, a mid-major guard has worked his way up from the island of misfit schools to the green room at the NBA Draft.
In 2012, Damian Lillard was selected sixth overall by the Portland Trail Blazers after spending four years at Weber State.
In 2013, Lehigh's C.J. McCollum joined Lillard in the Blazers' backcourt as he was selected with the 10th pick.
Last year, Elfrid Payton and Elfrid Payton's hair successfully made the leap from Louisiana-Lafayette to the lottery as he was selected by the Sixers with the 10th overall pick, but was traded while sitting at the interview podium to the Orlando Magic for Dario Saric, a second round pick in this year's draft, and a 2017 first round pick.
This year it's Cameron Payne's turn to ascend from Murray State into one of the first 14 picks in the 2015 NBA Draft. Payne just has to wait a little while longer to hear his name come out of Adam Silver's mouth and then he'll be able to walk up to the stage with a gigantic smile on his face, the same smile that was on display during the pre-draft interviews on Wednesday.
It's a smile that comes from a desire to tell his story with the masses, who are finally interested in learning about where the 20 year old point guard came from. Because when he was on his way to becoming the Ohio Valley Player of the Year as a sophomore in college, no one seemed to care, but now everyone is asking him to share his backstory.
"I wouldn't want it any other way," Payne said during the pre-draft interviews. "I really think this happened for a reason. I tell my story to every guy that I talk to."
This is a whole new world for Payne, who suddenly finds himself navigating through a massive schedule of interviews. "Man at Murray I used to have one or two [interviews] every two weeks on Monday and now every day it's like you have nine and then [tomorrow] you have three," Murray said. He noted that he's dealing with the added media responsibilities "pretty well."
Payne's versatile skill set as a point guard and superior basketball IQ have been the catalysts for his rising draft stock, but with the NBA currently in the golden era of point guards, it's a gigantic plus to have the ability to play off of the ball, especially if he were to wind up next to Russell Westbrook and Kevin Durant in Oklahoma City. Payne showed flashes of being dangerous without the ball in his hands at Murray State, but the Racers needed him to dominate the ball handling responsibilities.
"I can be a combo guard, I don't need the ball to succeed," Payne told NBCSports' ProBasketballTalk. "But I feel my best attributes come from me having the ball, because I put people in the perfect situation to score and I mean perfect. People like playing with me because I can do that and not a lot of players can do that."
Just watch the tape on Payne and you'll see exactly what he's talking about. I'll wait here while you watch this Draft Express video.
https://youtu.be/hWse5O-Kb6E?t=1m11s
You're back! Told ya the kid can pass the ball pretty freaking good, but if he ends up in OKC, he'll get relegated to briefly running the Thunder's second unit when Durant and Westbrook hit the bench.
Besides the Thunder, Payne has met with the Pacers, Lakers, Kings and Nuggets. Indiana would be an interesting fit if Larry Bird does decide to use the 11th overall pick on him, as Payne could be an immediate replacement for C.J. Watson, Rodney Stuckey, and Donald Sloan, who are all unrestricted free agents. Stuckey says he's confident that he and the Pacers will work out a deal, but even if Stuckey does come back, Payne could replace the 1,422 minutes Watson played last year and would have a much better chance of running the point with an actual star playing alongside him.
Payne's best chance to start immediately would be in Denver, but the Nuggets would have to find a trade suitor for Ty Lawson (George Karl is jumping up and down raising his hand) and receive another pick in the first round (George Karl is now doing jumping jacks). The Nuggets would fill one of their many holes with the first pick and then use the other on Payne as the replacement for Lawson.
Regardless of what happens on draft night, Cameron Payne has followed the path of success by following the advice of a mid-major trail blazer who helped pave the way for him.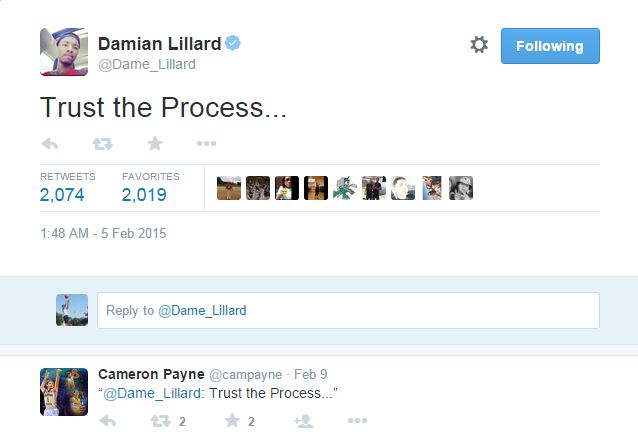 Twitter – @ScottDargis