The Cavaliers may have lost in the Finals, but LeBron James' return to Cleveland was the most important event in the franchise's history. To commemorate the Cavs' season, which involved making the Finals despite injuries to Kyrie Irving and Kevin Love, Nike has taken out a full-page ad in the Cleveland Plain Dealer  recounting the season, with a twist. Here's the full advertisement: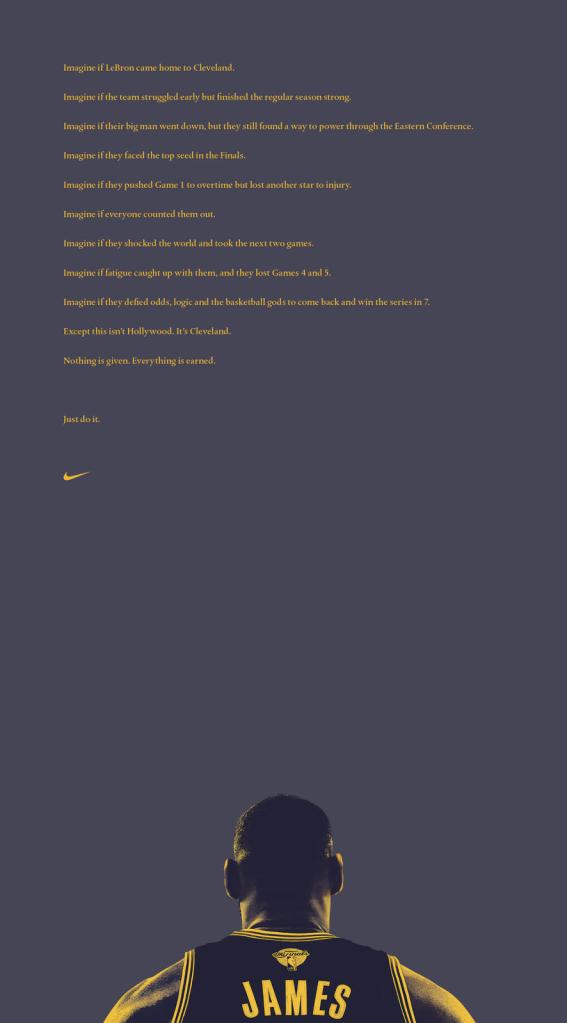 Here's the full text of the ad:
Imagine if LeBron came home to Cleveland.

Imagine if the team struggled early but finished the regular season strong.

Imagine if their big man went down, but they still found a way to power through the Eastern Conference.

Imagine if they faced the top seed in the Finals.

Imagine if they pushed Game 1 to overtime but lost another star to injury.

Imagine if everyone counted them out.

Imagine if they shocked the world and took the next two games.

Imagine if fatigue caught up with them, and they lost Games 4 and 5.

Imagine if they defied odds, logic and the basketball gods to come back and win the series in 7.

Except this isn't Hollywood. It's Cleveland.

Nothing is given. Everything is earned.

Just do it.