The Sixers officially unveiled new home, road and alternate uniforms, and the combination of subtlety and a nod to the past makes for a winning combination.
"While we continue to look toward the future, our focus in updating our on-court identity was to incorporate distinct design elements made famous over three eras by the legendary players who have proudly represented this franchise and our city," said Sixers Chief Marketing and Innovation Officer Tim McDermott in the team's official release. "Our new uniforms symbolize a new chapter for our franchise while providing a bold look for the next generation of Sixers."
Design features of the new uniforms include:
TRADITIONAL TEXT – "PHILA" is boldly emblazoned across the chest of the home and road jerseys, a feature that reflects the proud, rich tradition of Philadelphia basketball and is directly linked to the iconic design worn by Chamberlain's 1966-67 NBA Championship team. The alternate red uniforms are reminiscent of the garments Erving and his NBA Champion teammates made famous in 1982-83 with "SIXERS" centered on the chest.
STARS & STRIPES SIDING – All three uniforms are decorated with a column of patriotic stars down each side of the jersey bordered by variations of red, white and blue piping extending into the matching uniform shorts. There are seven stars on one side and six on the other, a nod to the "76ers" moniker and collective homage to the starry 1976-77 uniforms designed in part by Cunningham.
"PHILA TOUGH" – Each uniform shares a subtle but significant feature on the waist-level hem of the jersey. The phrase "PHILA TOUGH," which serves as an inspirational symbol of the gritty, passionate demeanor rooted in the Sixers' fan base, is stitched upside down, situated to be legible to Sixers players as they tuck in their jerseys.
NOSTALGIC NECKLINE – A classic v-neck cut with variant red, white and blue striping accompanied by matching sleeve linings present in all three jerseys is also inspired by the look donned by the 1982-83 NBA Champion Philadelphia 76ers. The gold tag on the back collar of each jersey acknowledges the three championship titles in Sixers history.
LOGO LOCALE – All variations of the Sixers uniform shorts are branded with the team's partial primary logo on the leg and a circular ring of 13 stars—another team partial logo—central to the waistband.
Here are a few photos of each iteration; there are plenty more available over at Sixers.com. While it may take a little while for these to sink in, it's immediately clear that they're far better than whatever it was that was concocted by the Clippers.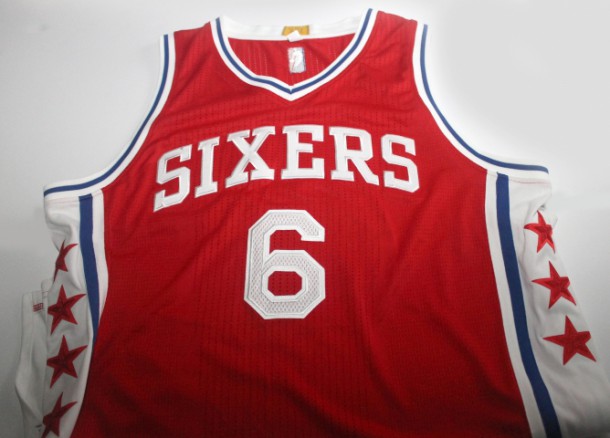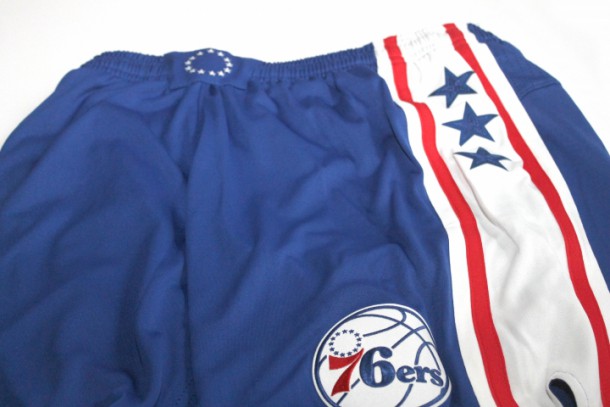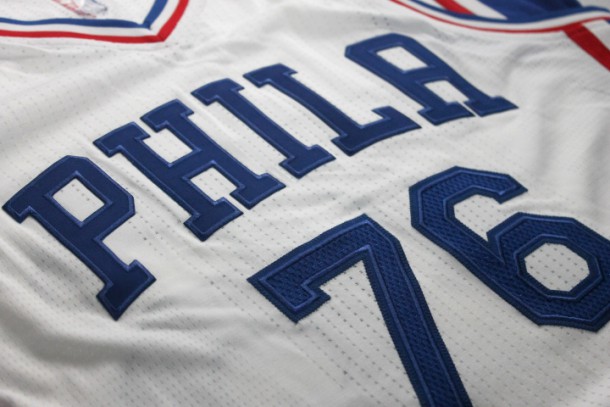 #Sixers new uniforms. pic.twitter.com/HXXSd1i61i

— Michael Preston (@preston76) June 19, 2015