No NBA champion has ever shot like Golden State.
The Warriors attempted 3-pointers on 31% of their shots this season – a high for an NBA champion.
They also made 40% of their 3-point attempts – second-most by an NBA champion.
Were they an aberration, the only team that will feature the best 3-point shooter of all-time (Stephen Curry), a second excellent 3-point shooter (Klay Thompson) and a strong supporting cast of 3-point shooters (Draymond Green, Harrison Barnes, Andre Iguodala and Leandro Barbosa)?
Well, yeah, probably – at least if you consider next year's Warriors the same team.
But the NBA has also been trending toward a champion that shoots like this. If it weren't Golden State, it would have been someone else eventually – though credit the Warriors for jumping the curve.
Here's how NBA champions (gold) and the NBA average (blue) has evolved with 3-point attempt rate: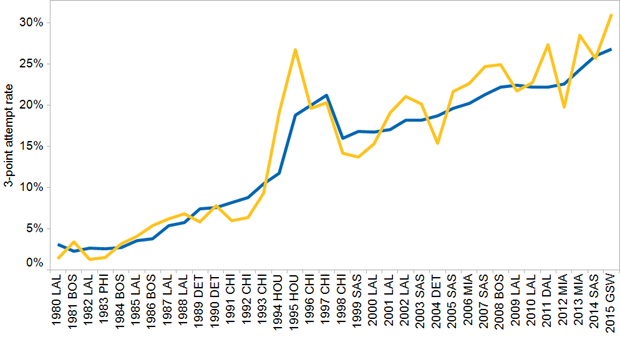 And 3-point percentage: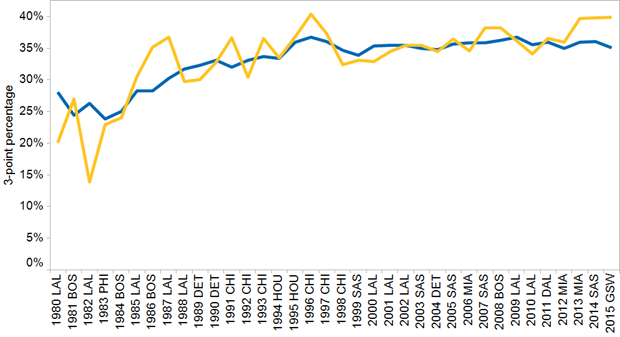 Plot both 3-point attempt rate and 3-point percentage on the same graph, and you can see NBA champions work their way from the bottom left to the top right – all the way to the 2015 Warriors:
NBA players shoot better than ever. Not trusting jumpers is an antiquated notion established before the 3-point arc and when the ball was more irregularly shaped. As jump shots have become more reliable, players have integrated them more deeply into their practice habits, creating a snowball effect.
The Warriors embraced 3-point shooting quicker than the curve, and that became a key weapon on their title run. A bigger weapon: Their top-ranked defense, which often got overlooked for their offensive style.
But if you're overly concerned with offensive style, realize this: More elite jump-shooting teams are coming. Better get used to it.