Before Andre Iguodala, the last player to come off the bench during his NBA Finals MVP season was Shaquille O'Neal in 2002.
Because he had an upset stomach.
Iguodala came off the bench in 3-of-6 NBA Finals games, all 15 preceding playoff games and all 77 regular-season games.
In years Basketball-Reference.com has starting data – postseason back to 1985, regular season back to 1981 – Finals MVPs combined to come off the bench just 10 times in the season they won the award.
Here's how often NBA Finals MVPs have come off the bench in the Finals (yellow), in other playoff games (white) and in the regular season (blue) that year: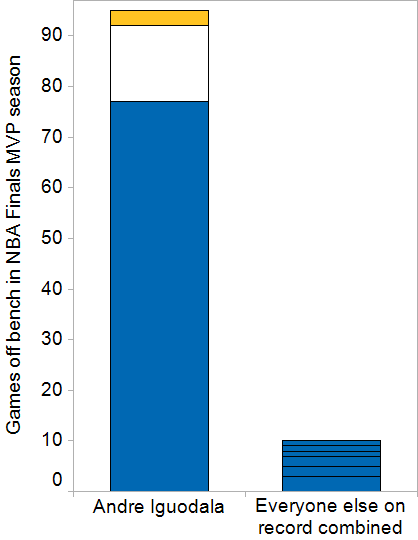 Nobody else on record came off the bench during the playoffs, let alone in the Finals. Here are the six Finals MVPs who account for the 10 games off the bench in the regular season:
1988: James Worthy (LAL) – 3
1989: Joe Dumars (DET) – 2
1984: Larry Bird (BOS) – 2
2002: Shaquille O'Neal (LAL) – 1
1986: Larry Bird (BOS) – 1
1982: Magic Johnson (LAL) – 1
Considering the cache of NBA Finals MVPs – 1981's Cedric Maxwell is the only eligible one not in the Hall of Fame – I doubt there were many others coming off the bench prior to data being reliably tracked.
Iguodala breaks the mold – which should make him and the Warriors proud.