Jimmy Butler said he wants to stay with the Bulls, and they want to keep him.
Which is good news – because it's very difficult to see him starting next season elsewhere.
But the terms of Butler's return to Chicago could get complicated during his upcoming restricted free agency.
Adrian Wojnarowski of Yahoo Sports:
Chicago Bulls restricted free-agent guard Jimmy Butler has plans to pursue shorter-term offer sheets this summer, resisting the Bulls' initial plans to offer him a five-year, maximum contract extension, league sources told Yahoo Sports.
Butler's intrigue with signing a potential Los Angeles Lakers offer sheet has increased, league sources told Yahoo Sports.

Butler has preliminary plans to pursue meetings with several teams once free agency starts in July, sources said.
The Bulls will extend Butler a $4,433,683 qualifying offer, making him a restricted free agent and allowing Chicago to match any offer sheet he signs.
Typically, a restricted free agent must sign an offer sheet for at least two years (not counting option years). But the Bulls could require he signs offer sheets for at least three years (not counting counting option years) by extending him a maximum qualifying offer.
The maximum qualifying offer – which is extended in addition to the regular qualifying offer – is worth a max contract over five years with max 7.5% raises and no options. The exact amount won't be determined until the July moratorium, but it projects to be worth about $91 million. Butler could accept that any time before Oct. 1.
Considering the Bulls reportedly planned to preemptively offer Butler a max contract without making him bring them an offer sheet, I expect them to extend a maximum qualifying offer.
If Chicago extends a maximum qualifying offer, Butler could get a deal shorter than three years only two ways:
1. Negotiating it with the Bulls.
2. Accepting the regular qualifying offer of $4,433,683 for one year.
Because No. 2 would cost Butler so much guaranteed money, that's unlikely. Therefore, the Bulls have little incentive to negotiate a shorter contract. They want him long term.
However, because the salary cap is skyrocketing in the next couple years, it makes more sense now than ever for players in Butler's situation to seek short-term deals – even if it's the miniscule qualifying offer.
Here are the maximum amounts Butler projects to earn in the following scenarios:
Re-signs with the Bulls or accepts their maximum qualifying offer (red)
Accepts the qualifying offer and signs a four-year deal outside Chicago in 2016 (black)
Signs a two-year offer sheet matched by the Bulls and signs a four-year deal outside Chicago in 2017 (green)
Signs a three-year offer sheet matched by the Bulls and signs a four-year deal outside Chicago in 2018 (blue)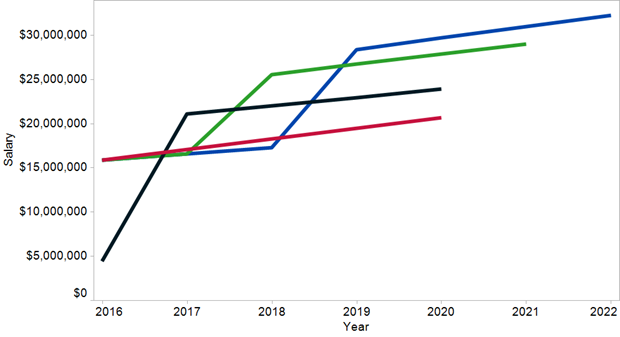 | | | | | |
| --- | --- | --- | --- | --- |
| Year | Re-sign | QO + four | Two-year + four | Three-year + four |
| 2016 | $15,856,500 | $4,433,683 | $15,856,500 | $15,856,500 |
| 2017 | $17,045,738 | $21,031,721 | $16,570,043 | $16,570,043 |
| 2018 | $18,234,975 | $21,978,149 | $25,521,639 | $17,283,585 |
| 2019 | $19,424,213 | $22,924,576 | $26,670,113 | $28,357,377 |
| 2020 | $20,613,450 | $23,871,004 | $27,818,587 | $29,633,459 |
| 2021 | | | $28,967,061 | $30,909,541 |
| 2022 | | | | $32,185,623 |
| Total | $91,174,875 | $94,239,133 | $112,436,882 | $107,700,964 |
| Average | $18,234,975 | $18,847,827 | $23,567,324 | $24,399,447 |
An italicized salary comes in the second contract of a scenario.
As a reminder, the scenario in green – signing a two-year offer sheet – would be unavailable to Butler if the Bulls extend a maximum qualifying offer.
But Chicago can't stop him from taking the regular qualifying offer and hunting a max deal elsewhere in 2016. That projects to pay more over the next five years than a max contract signed this summer would – a powerful piece of leverage.
It's also important to remember we're headed toward a work stoppage in 2017. The Collective Bargaining Agreement will likely be rewritten then, and the rules that inform this projection could change. The potential reward for delaying a long-term deal is high, but so is the risk.
This summer offers much more certainty.
Just as when Butler-Lakers rumors came up before, it remains nearly impossible to see the Bulls not matching. If the Lakers or any other team signs Butler to an offer sheet, it will probably just be wasting three days and making life more difficult for Chicago.
The Bulls should focus on selling new coach Fred Hoiberg to Butler and easing tension between Butler and Derrick Rose. Making Butler happy could go a long way, whether it's convincing him to re-sign on a long-term contractor pleasing him once he's back on a matched offer sheet.
Either way, Butler almost certain returns to Chicago. It's just a matter of how.